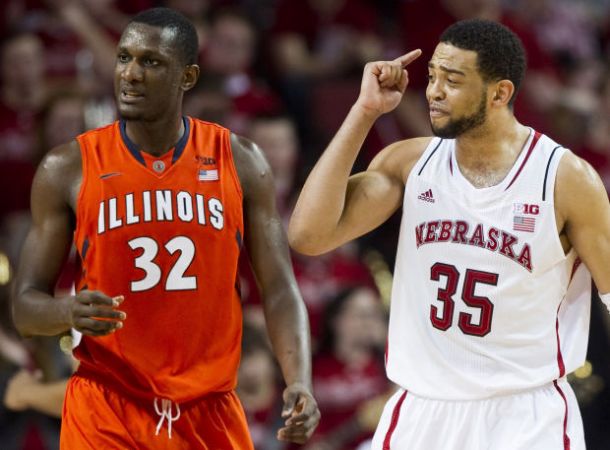 Illinois goes for their second consecutive win when they take on Nebraska at the Pinnacle Bank Arena in Lincoln on Sunday night.
Illinois (11-5, 1-2) comes into tomorrow's game following a 64-57 win over #11 Maryland on Wednesday night. Not only did Illinois knock off a ranked team, they did it without their star player Rayvonte Rice. Rice broke his left hand in practice this past Monday and is expected to miss at least 4-5 weeks. Malcolm Hill and Nnanna Egwu took command in Wednesday night's victory, Hill had a career high 28 points and Egwu had 11 points.
Nebraska (9-6, 1-2) come into tomorrow's game following a 65-49 victory over Rutgers on Thursday night. Terran Petteway led the Huskers with 20 points and five assists, Shavon Shields, Walter Pitchford and Benny Parker combined for 29 points, 12 rebounds and five assists. Nebraska forced 19 turnovers and held the Scarlet Knights to 34.7 percent shooting from the field and their third lowest output this season.
Last time these two teams met: February 26, 2014 in Champaign-Urbana,IL- Illinois excelled on defense for the third straight game, riding that momentum to an 11-point victory over Nebraska, holding the Huskers to a season-low 49 points and snapping their five-game winning streak in the process. The Illini used a 12-0 spurt over a 2:44 span midway through the second half to pull away, turning a one-point game into a 13-point lead (50-37) with less than 10 minutes remaining. The visitor's got no closer than eight points the rest of the way.
Players to look:
Illinois-
Sophomore Malcolm Hill scored a career-high 28 points in the win over the Terrapins, the second-most points by a Big Ten player in league play this season and equaling the fifth-best total by an Illini during the Groce era.
Senior Nnanna Egwu is rapidly closing in on the Illinois career blocked shots record, entering the Nebraska game just six blocks shy from the all-time school mark.
Nebraska-
Junior Terran Petteway entered the season as one of the best players in the country and has played at a high level for the Huskers this season. The 6'6" junior has raised his numbers across the board from his sophomore season, as he averages 19 points, 5.6 rebounds and 2.7 assists per game. He is second in the Big Ten in scoring and ranks among the Big Ten leaders in blocked shots (13th) and steals (14th).
Junior Shavon Shields has continued his emergence, averaging 17.5 points on 48 percent shooting and 6.8 rebounds per game heading into Sundays game with Illinois. Shield's is fourth in the Big Ten in scoring, sixth in costless throw percentage (.856) and ninth in rebounding.