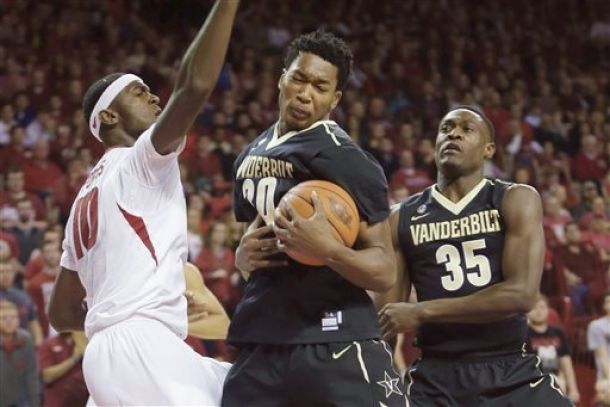 Arkansas has crept their way into the national rankings and look to climb higher after their 82-70 win against Vanderbilt. The game was closer for the majority of it's length than the final score tells as Vandy gave Arkansas their best shot.
Arkansas came out with energy and played defense as they finished with 13 steals and forced Vanderbilt into 22 turnovers. The Razorbacks controlled the first half with a comfortable lead but the Commodores always remained within striking distance. Arkansas went into halftime up by eight.
In the 2nd half Vanderbilt quickly struck back as they cut the lead to as little as one point with 10:00 remaining. Arkansas turned up the defense and used their quick hands in the back court to force turnovers and score quick buckets to gain a 60-52 advantage not even a minute later. For a few minutes it became a slugfest between the two and Vanderbilt would not go away for the time being.
With five minutes remaining Arkansas stepped on the gas and would never let go. The Razorbacks gained a 15 point lead with under four minutes to go to secure their win.
The defense played by Arkansas is what allowed them to gain so much momentum, causing Vanderbilt to cough it up time and time again. The Commodores seemed as though they could not get the ball inbounds against the pesky Razorback defense. If Arkansas keeps playing suffocating defense like this all season, it will be hard to beat this SEC team.
Key Players
Bobby Portis- Arguably the best player in the SEC had a game high 32 points, 11 rebounds and four steals. Any success Arkansas has this season starts with this sophomore.
Michael Qualls- Possibly was shadowed by Bobby Portis in this game but Qualls had 20 points and six rebounds in a terrific outting.
Damian Jones- Grabbed 14 points and seven rebounds where he lived in the paint. He used his size to shoot a nice 6-10 from the field.
Matthew Fisher-Davis- Also ended with 14 points and shot 4-6 from behind the arc to give Vanderbilt most of their 3-point shots.