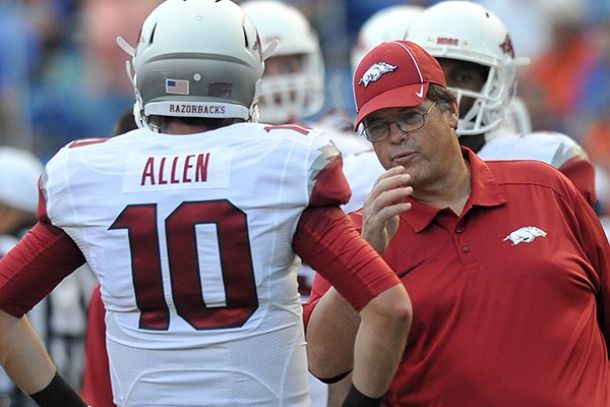 Arkansas offensive coordinator Jim Chaney has accepted the same position at Pittsburgh, Sports Illustrated reported Sunday evening. An Arkansas team spokesperson couldn't confirm the report Sunday. No official announcement had been made by Pittsburgh as of yet.
Chaney, who was also the Razorbacks' quarterbacks coach, would be the second Arkansas coach to accept another position since the Razorbacks' Texas Bowl win last month. Former Arkansas linebackers coach Randy Shannon accepted a similar position at Florida last week. Chaney would owe the University of Arkansas $100,000 to buy out his contract, which runs through June 2016.
Chaney was Arkansas' highest-paid assistant coach during the 2014 season with a yearly salary of $550,000. Arkansas head coach Bret Bielemia said last week that new contracts were being finalized for three assistant coaches, including Chaney.
Five other assistant coaches received pay raises following the season.
The Razorbacks ranked eighth in the Southeastern Conference in total offense in 2014, averaging 410.6 yards per game. Arkansas ranked seventh in scoring at thirty-two points per game. In Chaney's first season as the Razorbacks' offensive coordinator, Arkansas ranked eleventh in total offense and twelfth in scoring offense. Quarterback Brandon Allen made strides between those two seasons. After throwing for 14 touchdowns and 10 interceptions during an injury-filled sophomore season, Allen threw for 20 touchdowns and 5 interceptions as a junior.
Despite the improvement, Arkansas' offense still struggled for much of the conference season, particularly in fourth quarter drives. The Razorbacks failed to score in the fourth quarter in five of their SEC games, blowing fourth quarter leads against Texas A&M, Alabama, and Missouri.
If Chaney doesn't return to coach during the 2015 season, Allen and the Arkansas offense will be learning from the fourth coordinator in five years.