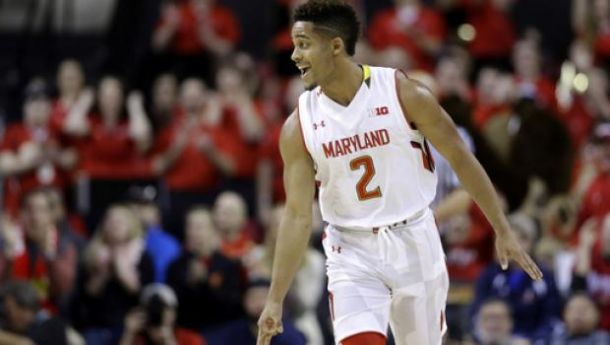 Freshman guard Melo Trimble scored 24 points, and the No.14 Maryland Terrapins defeated the Michigan State Spartans 75-59 Saturday to earn their seventh consecutive home victory.
Before the game, Trimble commented, "We're really good on offense when we just run our plays and let our system work, so I think it's a big part of my job to get us in our spots and run our offense." Trimble could not have been any more correct. He scored 21 of his 24 points in the first half with a total of 8-of-16 shooting. He also made six three pointers and was 2 for 2 from the costless throw line.
Junior forward Jake Layeman was quietly dominat for Maryland as well as he scored 23 points and grabbed 12 rebounds. Maryland as a team shot 43 percent from the field and 52 percent from beyond the arc. Maryland also went 20 for 22 from the foul line.
With this win, Maryland swept the season series against the Spartans and took sole possession of first place in the Big Ten.
Coming into this game, Maryland was holding opponents to a conference-low 37.3 percent shooting. Michigan State shot 44 percent in this contest. Branden Dawson led the Spartans with 14 points on 6-of-12 shooting. Matt Costello also contributed for Michigan State with 12. Michigan State shot just 4 of 13 from the costless throw line.
The Spartans had their three-game winning streak snapped with this loss.
The first half was all Maryland. After getting down 10-5 early, the Terrapins went on a 22-6 run, which featured 13 straight points from Trimble to take a 27-16 lead. Maryland made only one more basket than Michigan State in the first half but went an impressive 6 for 11 from three-point range. During that span, Michigan State missed all three of its three-point shot attempts. Maryland went into the half with a 40-26 lead.
Maryland played a decent second half, but the Terrapins' impressive offense from the first half did not last. The Spartans still could not get anywhere near the Terrapins. Maryland kept Michigan State out of the game all the way through with productive foul shooting and tough defense.
At the end of the day, it was another impressive victory for the Terps.
Next Games:
Michigan State - Penn State on 1/21/15
Maryland @ Indiana on 1/22/15