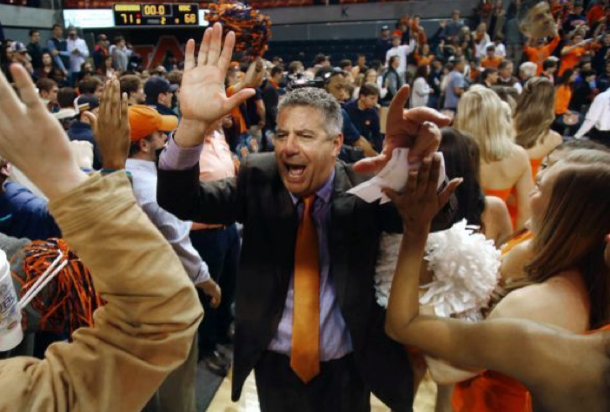 To the sound of a packed out Auburn Arena, KT Harrell and Cinmeon Bowers led the Auburn Tigers to a 71-68 win against the visiting South Carolina Gamecocks.
The Tigers started off the first half to a very slow pace, scoring just 14 points in the first 10 minutes of the game. SG Antoine Mason took the lead in scoring for Auburn, putting in 8 of the Tigers first 17 points. As the first half progressed, the noise in the Arena grew as cameras focused their lenses on the likes of Gus Malzahn, Will Muschamp, and Ronnie Brown, all Auburn Football legends in the eyes of the students. Once the crowd got into the game, the Tigers found their motivation and went on a 14-5 run to finish the half up 10.
Similar to the first half, Auburn started the second half out extremely slow, letting the Gamecocks work their way back into the game. After 10 minutes, the game was tied once again at 47-47, and then Harrell took over. Of the Tigers final 24 points, KT put in 16. Driving layups, step-back three pointers, and costless throws alike, Harrell did it all. South Carolina did their best to stay within range, but missed costless throws ultimately put the game out of reach. Malcolm Canada, Jordon Granger, Harrell, and Bowers all knocked down crucial costless throws at the end of the game to give the Tigers the victory, 78-61.
Bowers recorded his 11th double-double of the season, scoring 10 points and pulling in 10 rebounds. Harrell finished the game with 24 points, leading all players. Mason contributed 14 points over the course of the game, with 10 coming in the first half.
Auburn's next SEC game comes on Wednesday, January 21 at 8:00 CT against the Mississippi State Bulldogs in the Auburn Arena. South Carolina plays next at home against the Tennessee Volunteers on January 20 at 8:00 CT.