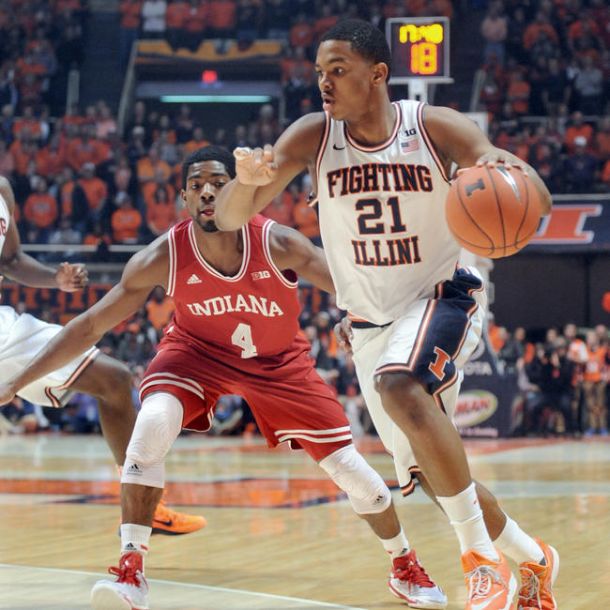 Illinois and Indiana met up for the 173rd time on Sunday afternoon, with the series split at 86 games apiece. Indiana however would come out on top winning 80-74 in front of a sold out crowd at the State Farm Center in Champaign.
Illinois started the game on a 14-3 run, a run that was led by sophomore guard Kendrick Nunn who had 3 three pointers during the first 6:12 of the game. However Indiana (14-4, 4-1 B1G) would answer back, the Hoosiers went on a 14-2 run that spanned 2:32. The Hoosiers run forced John Groce's Illini (12-7, 2-4) to call a time out. Following the Hoosiers 14-2 run the game was very back and forth throughout the rest of the first half. Illinois Kendrick Nunn had 4 three pointers and 14 points through the first 20 minutes of play; Illinois would head into halftime trailing Indiana 38-34.
"Not thrilled with transition defense in 1st half, allowed 24 points in transition in 1st half alone." Illinois head coach John Groce said.
Illinois used a 21-2 run in the second half to flip a 50-40 deficit into a 61-52 lead, but were unable to hang on for the victory. The Illini's four guards - Malcolm Hill (7 points), Ahmad Starks (6 points), Kendrick Nunn (5 points) and Jaylon Tate (3 points) - delivered balanced scoring during the spurt, while Leron Black provided a key block and two rebounds. Illinois held Indiana without a field goal for 6:53 during the run, with Yogi Ferrell posting the only points with two costless throws.
Illinois senior forward/center Nnanna Egwu had a rare off night for the Orange and Blue, Egwu fouled out of the game with 2:19 left and finished the afternoon with 0 points and 2 rebounds.
Illini coach John Groce after the game said, "Nnanna didn't have a great game tonight. Didn't affect the game on glass. Didn't have typical Nnanna game. He'll bounce back."
Indiana's head coach Tom Crean, had this to say about Egwu, "Egwu to me is as versatile, valuable and as mobile as any big I can think of. Not about points & rebounds, it's about his action."
Senior Ahmad Starks earned his career high at Illinois with 19 points, hitting a season-best 5-of-8 from three and dishing out a season-high six assists.
Kendrick Nunn posted a game-high 24 points, one shy of his career high from the last game at Northwestern. He turned in the best first half of his career. Nunn finished 9-of-13 from the field and a career-best 6-of-10 on three-pointers. Over the past two games, he has notched 49 points (24.5 ppg) while shooting 17-of-26 (65.4 percent) from the field and 10-of-17 (58.8 percent) from three.
Freshman Leron Black nearly had his first career double-double, finishing with eight points and a season-high nine rebounds.
Sophomore Malcolm Hill nabbed a career-high three steals to go along with 12 points and five rebounds.
The Illini drained double-digit threes for the third time this season, going 12-of-27 from distance.
For Indiana the scoring came from sophomore Troy Williams and their freshman James Blackmon Jr.; each had 21 points. Junior Nick Zeisloft also added 10 points of his own.
Up next:
Illinois will play Purdue at home this Wednesday night.
Indiana will play host to Maryland on Thursday night.