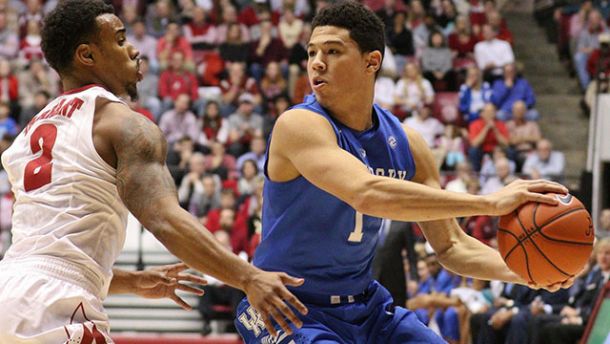 Kentucky is back in full stride after what seemed like a near falling out to begin the SEC season. After a blowout win against a pressuring Alabama squad the Wildcats look to turn it up even more against Vanderbilt on Tuesday.
These squads will only be meeting once this year, and this game will take place in Lexington. Kentucky has given other teams trouble when they come to Rupp Arena so the Commodores will have to look to turn it up a notch against the top ranked team.
With Vanderbilt coming off of a heartbreaking loss at Mississippi State last Saturday the Commodores could be looking for some revenge. Their loss could propel them into a performance that could leave one of the undefeated teams with a loss.
Vanderbilt has had their struggles mostly on the road this season with four of their losses coming on the road. Including only being able to get one road win the entire season. Vandy will have to put all of that behind them if they want a shot at the best team in the nation.
Kentucky's leading scorer, Aaron Harrison, averages 11.4 points per game but has been a streaky shooter as of late. Harrison looks as though he can't get a rhythm in games and maintain it all the way through. Harrison will have to come out of this small slump as the SEC goes on.
The Commodores leading scorer, Damian Jones, has an average of 16.0 points in less than 30 minutes of action per game. Jones is only a sophomore at Vanderbilt and will likely grow into a high draft pick as his career goes on. Jones will use his size in the paint against some of the bigs of Kentucky.
Vanderbilt is one of the taller teams in the SEC with three players 6-10 or taller. The Commodores should look to use their size in the post and try to attack the big men of Kentucky early and get them into foul trouble.
Kentucky has their size advantage in the backcourt due to the tall guard play of the Wildcats. With Kentucky's tall shooting guards they can run the floor against Vandy and get shots up easier to try and sink them early on.
Star Players
Devin Booker- Booker has been on fire from beyond the arc lately, hitting 20 of 28 in the last seven games. That's a fantastic 71.4% clip and he's hit 31 of 61 3-pointers on the year. Booker will likely keep that fire lit at home and be Kentucky's leading scorer once again.
Riley LaChance- Vanderbilt's freshmen guard and likely their best shooter will be hard to guard. He comes in at 6-2 which could cause some trouble for Tyler Ulis on the defensive end. LaChance shoots 40.2% from behind the arc and will definitely be trying to get open looks to help his team in this game.