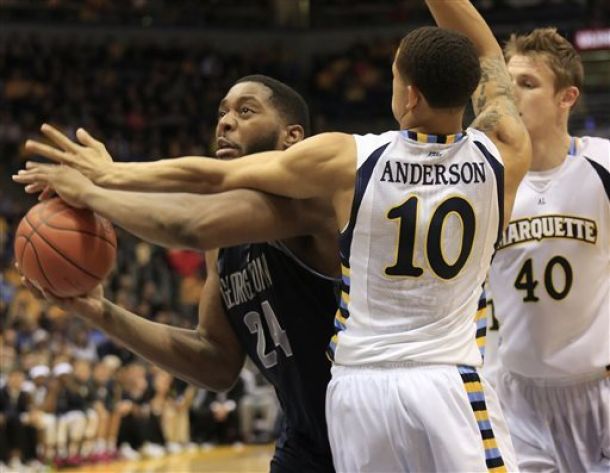 And so the season of almost continues for the Marquette Golden Eagles. On Saturday, they lost yet another winnable game, this one coming at home to the Georgetown Hoyas. In spite of a furious second half comeback, and stellar outings from Matt Carlino and Duane Wilson, the Golden Eagles have lost yet another heartbreaker. This is now the sixth winnable game that they've let slip away, and Marquette coach Steve Wojciechowski must be wondering what he has to do to win a game.
The game was a furious battle, one in which both sides had moments where they seemed certain to win. In the opening few minutes, it appeared as if the game was not Marquette against Georgetown but rather Matt Carlino against Georgetown. Carlino scored Marquette's first 12 points, and at the first media timeout the score was Carlino 12, Georgetown 10.
The next four minutes saw the scoring come to an abrupt halt, but with the game tied at 16-16 the Hoyas embarked on a run similar to the ones they enjoyed earlier this week against Villanova. Joshua Smith, Aaron Bowen, Isaac Copeland and D'Vauntes Smith-Rivera all scored during the 9-2 run, and suddenly it seemed as if the game could away from Marquette.
However, if there is one thing this Marquette team has it is an unwillingness to quit. They went on a mini-run of their own, cutting the lead to 27-24. A transition dunk from Juan Anderson and an incredible and-one dunk from Derrick Wilson got the crowd back into the game, all while killing the Hoya momentum.
The remainder of the first half went along in much the same vein, with both teams trading baskets and neither side holding a lead of more than six points. In the final minute of the half, the momentum seemed to take a fateful turn. Two free throws from Marquette's Jajuan Johnson had closed the gap to 43-39, only for Georgetown's Tre Campbell to go the length of the floor and make a runner as time expired to put the Hoyas back in control heading into the break.
It seemed that Georgetown would kick on from that point and go win the game, especially when they opened the second half with a three-pointer, thus widening their lead to 48-39. However, it was at this moment that Duane Wilson's coming out party truly began. The redshirt freshman missed all of last season with a broken foot, and he has shown potential in spurts this season without ever really convincing. That all changed in the second half.
After a Derrick Wilson layup, Duane Wilson went on a personal 7-0 run, knotting the game up at 48-48. Suddenly, Marquette had a second offensive weapon, someone besides Carlino for Georgetown to worry about. Having to key on both of them allowed opportunities for others to score, and some clutch shooting from Carlino, both Wilsons and freshman Sandy Cohen kept them in the game.
However, it was only keeping them in the game because Marquette could not stop Copeland and Smith. Smith was a force of nature in the paint all day, and was lucky not to foul out. He constantly blocked and affected shots, rendering Marquette big man Luke Fischer a non-factor.
Yet, the Golden Eagles would not go away and with just over nine minutes to play a Cohen three-pointer tied the game up at 64-64. Seconds later, two Carlino free throws gave them their first lead in 24 game minutes.
The game continued to seesaw back and forth, with each team gaining a slight advantage only for the other to rip off a mini run. Neither side held a lead of more than three points until overtime, but when Copeland knocked down a jumper to put the Hoyas ahead 79-76 with 46 seconds on the clock it seemed the game was over. Carlino and Duane Wilson disagreed. Wilson made a clutch three-pointer, tying the game only to see a foul called on Fischer at the other end with 5.9 seconds left.
The foul call sent Smith to the line, and he went 2-2, giving Georgetown an 81-79 lead. Marquette had no time outs left, and needed to go the length of the floor. That was the moment when Carlino stepped up. He raced downcourt, and pulled up for what appeared to be a game-winning three-pointer. The shot fell, and the crowd erupted. The referees had ruled it a three, and with just 0.9 seconds on the clock the Golden Eagles held an 82-81 lead.
However, the referees stopped the game to go and review. Carlino was right on the three-point line, and they needed a review to see if it was a two or a three. The crowd, already celebrating a victory, would be quickly disappointed. The review lasted for several minutes, but in the end it was determined that Carlino had his toe on the line.
So, the game headed to overtime. By this point, Fischer had fouled out and Marquette had no one over 6'7" available. Georgetown took advantage, moving the ball all over the court and scoring with ease. A Duane Wilson three-pointer gave Marquette an 84-82 lead with 3:17 remaining in overtime, but that would be their final lead of the game.
Clutch shooting from Mikael Hopkins, Smith-Rivera, Campbell and Copeland iced the game for Georgetown while a succession of poor shot choices from Carlino doomed the Golden Eagles. For all of the action which regulation provided us, overtime seemed fairly anti-climactic.
The win takes Georgetown to 14-5 (6-2 Big East) and they will be in action again on Tuesday night at home against Xavier. Meanwhile, Marquette drops to 10-9 (2-5 Big East) and they will next be in action at home on Wednesday night against Seton Hall.