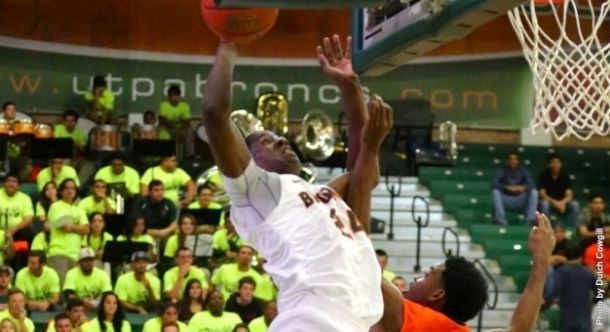 Grand Canyon University (11-10 2-2 WAC) went to University of Texas Pan-American (8-13 2-3 WAC) and dropped it's second straight game 73-72 Saturday at the UTPA Fieldhouse in Edinberg, Texas. After spending most of December at home GCU is finding road games in the WAC much tougher then expected.
Texas Pan-American jumped out to 6-0 run to start the game in a first half that featured each team making a series of runs. GCU went on a 14-2 run and led 21-18 at the 8:28 mark only to see the Broncs come back and take a 35-29 lead into halftime. UTPA shot 55.2 percent from the field and the Lopes only shot 33.3 percent in the first half.
UTPA got off to a good start by scoring the first 6 points of the second half leading 39-29 with 18:10 left. The Broncs were in a zone defense most of the second half and it seemed to hinder the Lopes offense. Finally after GCU played some full court defense DeWayne Russell made a layup to give the Lopes the lead 72-70 with .40 seconds left. Elijah Watson made 1 of 2 free throws to cut the lead to 72-71. GCU's Daniel Alexander turned the ball over on the inbounds pass and Watson grabbed the ball, floated in the lane and hit the jumper with .2 seconds left to give UTPA the victory 73-72.
For the game, UTPA shot 55.2 (32-58) percent from the field. GCU shot 43.1 (22-51) percent. The Broncs outrebounded the Lopes 31-27.
Shaquille Boga and Shaquille Hines had 18 points each for UTPA. Janari Joesaar added 16 points and 11 boards for a double-double.
Joshua Braun had a game high 25 points and DeWayne Russell added 15 points for Grand Canyon. Ryan Majerle scored 13 points and Daniel Alexander contributed 10 points for the Lopes.
GCU will go home for a match with University of Missouri-Kansas City on January 31st 2015 at 7:00 p.m. UTPA will head to New Mexico State on Saturday January 31st 2015 at 8:00 p.m.
Notes:
GCU's Joshua Braun's 25 points was a career high in scoring.
UTPA held a 34-14 rebounding edge in the paint.