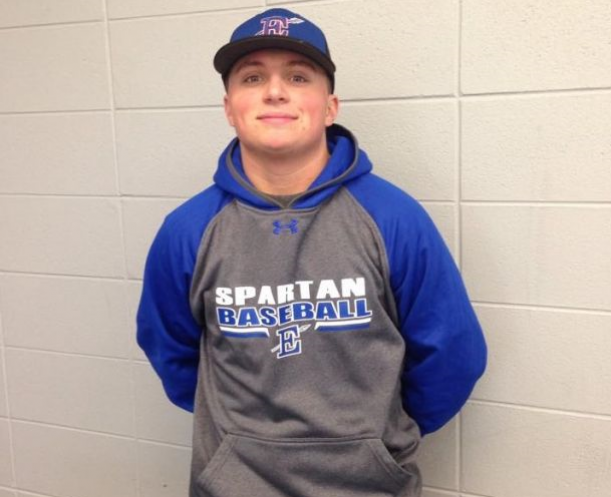 Since you're new to Spartans Baseball why don't you tell fans a little bit about yourself?
As a freshman coming in I am just learning my new role and meeting new teammates and learning the system here and getting along with the guys and I really like it here. It's a good atmosphere and I think we are going to do well this year.
Why did you decide to sign with ECC?
Well I really didn't have that many options coming out of high school and they gave me the roster spot and I really wanted to come here because it was a good option for someone who wants to develop as a player and I really like it here.
How exciting is it to be a college student athlete?
It's almost like a dream, playing college baseball is something that a lot of kids dream about and being able to do it is really nice.
What can you tell other athletes who are trying to get recruited?
I would say send out emails, video and have good seasons so you have stats to back up your play.
Who has been the biggest influence in your sports career thus far?
I would probably say my parents and then my high school coaches they really helped me out a lot pitching wise and my parents supported me throughout the whole process.
How did having a coach like Todd Genke (Austin's high school coach) who played professional baseball as a pitcher help you as a pitcher?
It helped me a lot he knew a lot about the game and he knew what I was as a pitcher and he knew my strengths and weaknesses and so he helped me a lot.
What would you like to accomplish during your college career not only here at ECC but if you decide to transfer out and go to a four year university?
Well hopefully become a starter at one point and then maybe becoming an All American.
Upcoming Spartans baseball season your thoughts?
I think we are going to do very well, we are going to take it one step at a time and we are getting better every day and this team looks pretty good right now.
What can Spartans fans expect out of you this season?
Coming out of the bull pen, making my opportunities and throwing strikes a lot of the time.
Growing up as a kid, who was that one baseball player you idolized and what was it about their game that you liked?
It would probably be Justin Verlander (Pitcher for the Detroit Tigers), he just does it every day; he works hard and he is a good thrower.
Favorite MLB team?
Detroit Tigers
What's your major/area of study?
Right now I am an undecided major but I will probably become a business major.
Follow Austin on Twitter @Austin_Lovelady