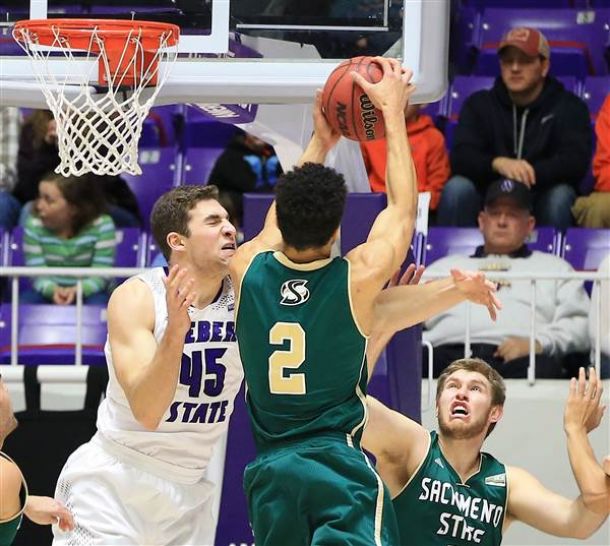 If you're looking for an underrated player in college basketball that should deserve more attention, that would be senior guard Mikh McKinney of the Sacramento State Hornets. The energetic sharpshooter is making a name for himself, leading the surprising Hornets to a 13-6 record, 1st in the Big Sky Conference, and a huge win over conference favorite Eastern Washington last Saturday. In a game against the Weber State Wildcats on January 25th, McKinney went wild for a career high 33 points to lead Sac St. to a hard fought win.
Weber State, a team better than their 8-11 record may show with many close losses, used their big man Joel Bolomboy often to get in the paint and score easy layups. It was an impressive battle between two centers, Bolomboy for Weber State and Eric Stuteville for SacTown, In the backcourt, it was a fun matchup between Wildcats' guard Jeremy Senglin and Hornets' guard Dylan Garrity, scoring 15 and 18 respectively. In the back-and-forth first half, McKinney was relatively quiet with only 6 points. As the score was tied 37-37 at the break.
However, it was the 2nd half when McKinney started to roar. He was rattling the Weber State defense by scoring everywhere, either by driving for layups of gunning for the trey. The Wildcats held a 63-62 lead with just over 6 minutes to go, but that's when McKinney had had enough of playing around. He scored 13 points in the final 5 minutes, 9 of which came from beyond the arc. The end was not without controversy, however. With 17 seconds left in the game and the Hornets up 75-71, Sacramento State youngster Justin Strings could not inbound the ball. While one referee appeared to call a five-second violation that would have turned the ball over to the Wildcats, another referee Hornets' head coach Brian Katz a timeout on the other end of the floor. Randy Rahe, Weber State head coach, was infuriated, and was called for a technical foul. It was just another close loss down the wire for the Wildcats that will leave a bad taste in their mouths.
With this win, Sacramento State keeps rolling. Head coach Brian Katz has done a great job developing this efficient squad and the growth of Mikh McKinney. The run for the Big Sky Conference title will be wild with Eastern Washington still hanging around, but SacTown is certainly the clear favorite.
The Hornets head back home to The Nest on Thursday inviting lowly Montana State to town. Weber State's demoralized squad will try to rebound against North Dakota on the same day.