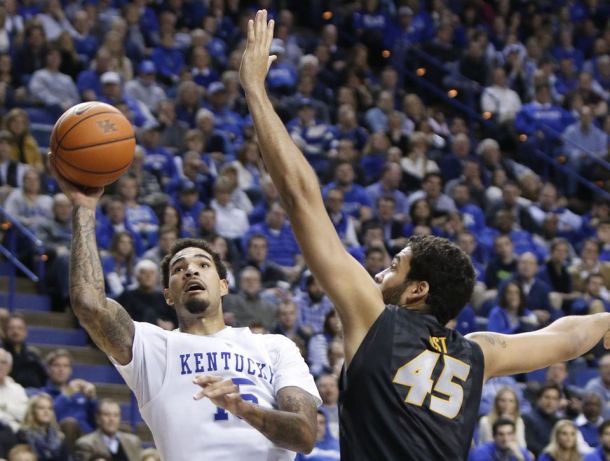 Kentucky's first match up with the Missouri Tigers ended entirely one sided with the Cats dominating 86-37 on Jan. 13. This time Kentucky will have to travel to Mizzou Arena to try and stay undefeated for the time being.
Missouri is 7-12 on the season and is coming off a devastating loss to Arkansas on Saturday. Missouri could not convert any baskets in the last 1:25 of the game and Arkansas held on to win 61-60. The Tigers showed a lot of fight by hanging with the second best team in the SEC at home and that could show room for improvement going forward.
Kentucky is one of the remaining unbeatens - along with Virginia - and defeated South Carolina 58-43 on Saturday. The Wildcats have shown they like to rise to the challenge while playing on the road but get only a little comfortable at home. Two out of three of Kentucky's home SEC games have been decided by single digits, one of them in overtime. This team may just like the idea of being challenged rather than things coming easily to them.
Missouri is one of those teams that can challenge Kentucky. Their record could cause the Wildcats to get a little comfortable and the Mizzou crowd will not let up on helping their team to the biggest win in years for their program. There will be blue found inside, but the arena will be packed with fans who will want to see that the top team gets taken out by one of the bottom SEC squads.
The leading scorer of Missouri, Johnathan Williams III, averages 12.6 points on the season but only managed three points against Kentucky the first time they met. Kentucky's size could bother Williams due to him not being able to be as physical.
Kentucky's leading scorer is Aaron Harrison, who is still leading the pack at 11.6 points a game. Harrison has been shooting inconsistently to begin the year only shooting .32% from beyond the arc. While this is not the main reason that Kentucky has failed to score above 70 points in the last two games, it certainly plays a factor. If Harrison struggles to score, the Cats can almsot expect a low offensive output.
Star Players
Karl Towns- Towns had a huge game against Missouri earlier this month with 12 points, 10 rebounds and five blocks. Expect Towns to continue this type of play in the second game of this series.
Montaque Gill-Caesar- Gill-Caesar is coming off a big game against Arkansas where he scored 16 points and went 3-3 from downtown. He will likely keep his fire going against the top team in the biggest game of his young career.