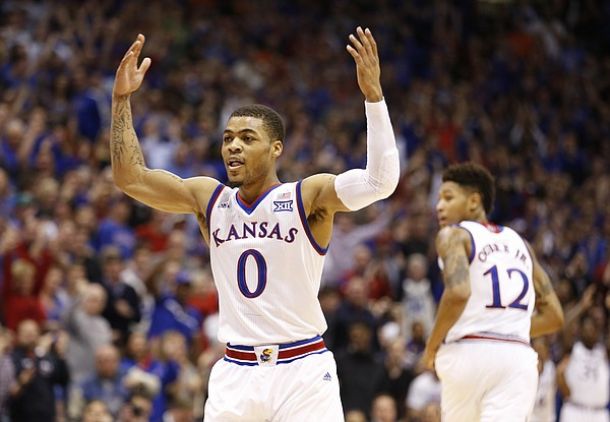 The Kansas Jayhawks have won 10 straight Big 12 basketball conference championships. Some of these teams have been filled with star power, such as the 2013-2014 squad (Andrew Wiggins, Joel Embiid), while others have featured far less big names but just as much (if not more) heart and drive to win (including the 2007-2008 National Championship team). The point guard position has been the glue position for the team throughout their historic run, with better point guard play almost always equating to more long-term success. He isn't a star, he's not a household name, but sophomore Frank Mason III is quickly and quietly turning into the next great point guard for the Jayhawks.
Guard play is vital in college basketball. It doesn't matter how good your big men are, you need good guard play to make a serious run at a national title. This is a trend that is crucial not only to bubble/marginally successful teams, but to the bluebloods of the game as well. Kansas is a prime example of this fact.
Last season, on one of Bill Self's most talented teams that he has had since arriving at Mount Oread, the team struggled down the stretch in large part due to the struggles of starting point guard Naadir Tharpe. Losing Joel Embiid at the end of the season was a crushing blow, that cannot be denied; however, frequent inefficient games overall and a myriad of poor decision at the point doomed the Jayhawks more than once.
To counter this, Tyshawn Taylor was much more successful while running the point with KU. Nobody will ever call Taylor a highly efficient player, as he was quite prone to turnovers compared to some other PGs in recent Kansas basketball history. That being said, he was a better passer overall and had better assist numbers. Couple that with much more efficient scoring (in a comparison of very basic statistics, Taylor shot nearly 10% from the field in his career than Tharpe) and you have a basic understanding of why Kansas was able to succeed more with Taylor at the helm.
Tyshawn was more adept at simply making things happen, usually for better but occasionally for worse, when he was on the floor, while Tharpe was often a lame duck on the court. This is a basic comparison in statistics and offensive concepts, but it provides a basic outline of the relationship between successful Kansas teams and solid point guard play. (For reference, the Jayhawks reached the National Championship game in 2012 during Taylor's senior season; KU was upset in the second round of the 2014 tournament with a generally more talented team, Embiid's injury notwithstanding).
So where does Frank Mason come in to play? The season is still in full swing, with several weeks to go, so there is still a lot left to prove. When you extrapolate numbers and evaluate trends, however, it becomes clear that Mason is a driving force behind this current team's success, as they are in the driver's seat in the Big 12 once again.
Taking a look at just the most basic of statistics, Mason, a sophomore from Petersburg, Virginia, has been a leader on the team this season. He's leading the team in points, averaging just under 13 per game, he's leading the team in assists and he has the second best assist/turnover ratio on the team, only behind Devonte Graham. Mason has also truly asserted himself as a floor general and symbol of consistency, leading the team in minutes with over 33 per game.
He is not a national star at this point, but Mason is having one of the best seasons that any Bill Self point guard has had. Sherron Collins played for KU for four years, earning All-America honors in both his junior and senior seasons (being elected in 2009 and 2010, respectively). In his senior season, Collins' statistics per 40 minutes were some of the best in the nation (illustrating why he was an All-American):
| | | | | |
| --- | --- | --- | --- | --- |
| PPG | APG | RPG | TOPG | FG% (3pt%) |
| 18.8 | 5.4 | 2.5 | 2.9 | 42.6 (37) |
By comparison, Frank Mason's stats per 40 minutes in his sophomore season:
| | | | | |
| --- | --- | --- | --- | --- |
| PPG | APG | RPG | TOPG | FG% (3pt%) |
| 15.5 | 4.9 | 4.6 | 2.5 | 48.6 (45.5) |
While not quite as prolific of a scorer as Collins, Mason is more efficient from the floor and is a better rebounder, with similar assist and turnover numbers. Again, this is in comparison to a first team All-American. It should also be considered that Collins was naturally more of a scoring threat, based on the pieces around him as well as his skill set. Mason has proven that he can take over as a scorer (as he has done this season against Temple, Iowa State and UNLV), but it is not necessarily required of him.
There is something to be said for the eye test, as well. Just watching Frank Mason during a game will be enough to show that he is the epitome of Jayhawks basketball. He can score by slashing to the hoop and with his signature floater from a few feet out, but his scoring moves and solid passes are not all that make the man in this case. Mason has been nicknamed "the Bulldog" in Lawrence for a reason; there is a special tenacity about him. He is a player that doesn't quit on plays, from fighting over tied balls to sacrificing his body for loose balls and on moves to the basket (not to mention defensively).
There is a reason that Mason has better rebounding numbers than many point guards. He is not afraid to mix it up with the bigs of the opponent, whether or not it's a futile effort (as it was for much of the game against Kentucky). He's a tough player, there are no bones about it, and that innate toughness is one of his most important qualities as a player, if not the most important. Not many point guards are going to have a double-double with points and rebounds against a ranked team the way Frank Mason did against #20 Michigan State this season (10 points, 10 rebounds).
Mason is the kind of player that Bill Self, as well as fans of college basketball in general, loves. A hard-nosed, "never say die" kind of player who will be around for his four years of eligibility. The attitude and style of play that #0 brings to the table every game will one day prove to be a huge asset in the form of veteran leadership for the Jayahwks. For now though, it is simply a valuable mentality and set of skills as the team looks for their 11th straight conference title.
Frank Mason is not the next Sherron Collins, nor is he the next Tyshawn Taylor, Naadir Tharpe, Aaron Miles, Russell Robinson, etc. No, he is the first Frank Mason. That being said, Mason has the skills, attitude and mentality that Kansas is looking for in a starting point guard. This is only Mason's second season; don't be surprised when several years down the road, Jayhawks fans and college basketball fans as a whole regard Frank Mason as one of the best point guards in the Bill Self era, because he's already on his way there.