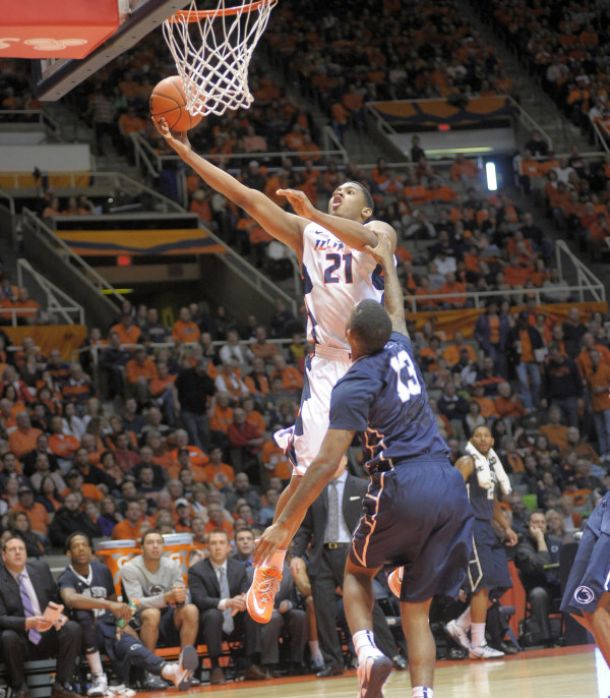 Illinois forward Malcolm Hill scored 27 points Saturday including two on a layup with four seconds left in the game to deliver a 60-58 win over Penn State.
Hill was mobbed at midcourt by teammates when Penn State's last desperate attempt to tie fell short.
The win was relief for an Illini team (14-8, 4-5) that has been injured as of late.
Kendrick Nunn added 10 points for Illinois. Leron Black had a game-high seven rebounds.
D.J. Newbill led Penn State (14-8, 2-7) with 20 points. Shep Garner added 14. Penn State played without starting forward Brandon Taylor for the second straight game. He has a knee injury.
Just before Hill's game-winning shot, it looked like the Nittany Lions might win the kind of close game it has often lost this season.
Illini center Nnanna Egwu tied the game at 58-58 with a short turnaround jumper with 57 seconds left. Penn State headed the other way, but the officials called Devin Foster for an offensive foul on the perimeter, and with 33 seconds left, the ball went to the Illini.
Hill's drive did just that, ending what had been a sloppy, back-and-forth game. The biggest lead of the afternoon was eight -- in the first five minutes for Illinois. Penn State had 19 turnovers, and Illinois - if you take away its 8-of-15 three-point shooting - shot just 31.6 percent from the field.