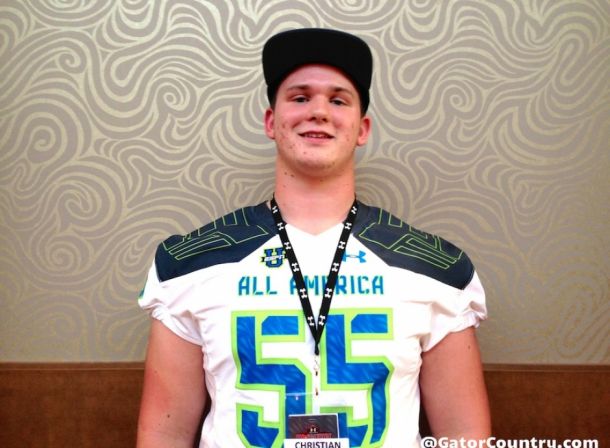 4* OT prospect Christian Pellage out of Brooksville, FL had pledged to USC back in August, and had stayed pretty strong, helping in the recruitment of other prospects to the Gamecocks. Then the new Florida Coaching staff under McElwain came in and started putting the bull-rush on Pellage trying to flip him to the Gators' class.
It caused Pellage to waiver a bit, to the point that he stepped back and reconsidered his position. He never de-committed though, but made an announcement earlier that he would think it over, and make a second final decision on Friday night regarding whom he'd choose:
"Florida gave me a lot to think about, especially with the new staff and the players, but in the end, after the discussion with my family, South Carolina just felt right deep down in my heart," Pellage stated with pride on Friday night. "My relationship with Coach Elliott had a huge impact with this decision. It wasn't always about football, we got to know each other personally. I know I can trust him in my development as a player and a person."
Pellage is one out of five much needed offensive linemen committed to bolster the Gamecocks and one of thirty-one greenhorns for the 2015 class. This is certainly a great get for USC.