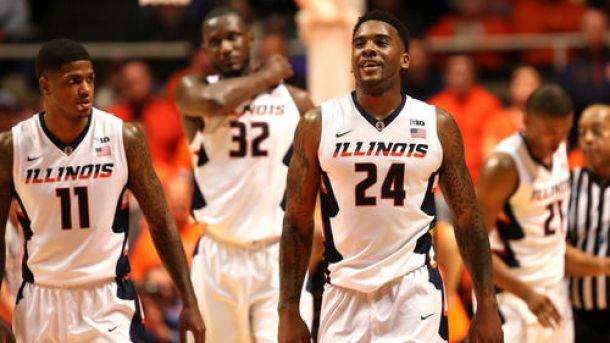 Champaign, IL- It was hoped that both Rayvonte Rice and Aaron Cosby would rejoin Illinois lineup earlier today but, instead, the school revealed about an hour before tipoff that both Rice and Cosby — sidelined for recent games by hand and eye injuries, respectively — had been suspended.
The news of the suspensions could not have come at a worse time, with nine games left in the regualr season John Groce and his staff might have to go back to the mantra "The Next Man Up" once again.
"Rayvonte and Aaron have been suspended indefinitely for a violation of team rules," said coach John Groce in a statement. "Hopefully they will make better choices and make the necessary progress to rejoin our lineup."
As of right now there is no further explanation as to why the two were suspended.
Rice, the team's leading scorer and rebounder, missed his seventh straight game since breaking a bone in his left hand in practice back on January 5th. Cosby will miss his third since sustaining a retinal tear in his left eye during the game against Indiana back on January 18th.
It has been a season marked by suspensions and injuries for the 14-8 Illini. Illinois currently sits near the bottom end of the B1G Conference standings with a 4-5 conference record.
John Groce's Illini will host Eddie Jordans Scarlet Knights in Champaign on Tuesday night, tip-off scheduled for 8:30 PM