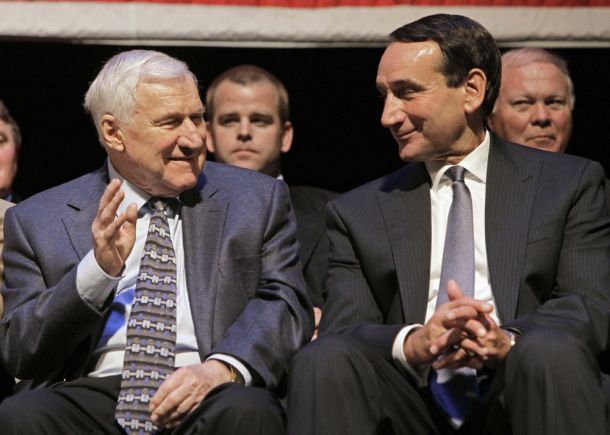 Legendary college basketball coach Dean Smith passed away on Saturday night according to a statement from the Smith family. His family stated that he died "peacefully" with his wife and children by his side. He was 83 years old.
Smith finished a 36 year coaching career following the 1996-97 season. An impressive feat considering that he spent the whole time at the University of North Carolina. Over that time, he accumulated an impressive win-loss record of 879-254, a winning percentage of 77.6%. His teams won 17 ACC Regular Season Titles and 13 ACC Conference Tournaments. They also made it to 11 Final Fours and won 2 National Championships (1982 and 1993).
His 879 wins ranks him 4th in NCAA Division I history behind only Mike Krzyzewski, Jim Boeheim, and Bob Knight. Smith's win total is three more than another legendary head coach with his program Adolph Rupp at Kentucky who finished with 876 wins in 41 years with Big Blue.
Dean Smith has one of the more elite coaching trees that a man could have. Former players under Smith such as current SMU coach Larry Brown, former NBA coach George Karl, Lakers GM Mitch Kupchak, and current North Carolina coach Roy Williams.
Along with his sterling college career, he took a turn coaching the United States National Basketball Team to a Gold Medal in the 1976 Summer Olympics in Montreal. The team finished 7-0 overall beating Yugoslavia in the Gold Medal game 95-74. They did avoid the Soviet Union in the final when Yugoslavia beat the Soviets 89-84.
Of all the great achievements by Smith though, the greatest one is the graduation rate among his players. Over his 36 years, his student-athletes achieved a 96.6% graduation rate. Something that is almost unheard of in modern college athletics.
North Carolina returns to the Dean Dome on Saturday, February 21st when they host Georgia Tech.