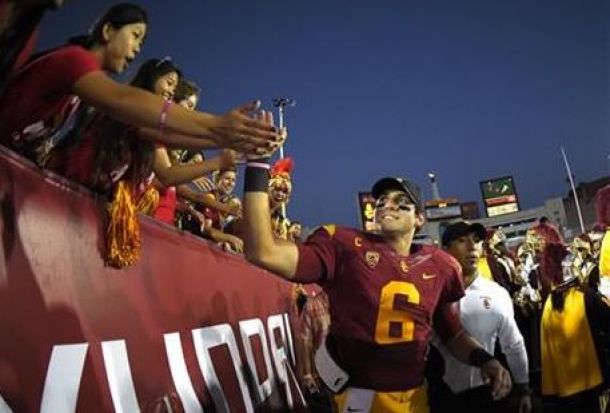 Quarterback is the most important position in modern football. With a passing-oriented game, quarterback play is depended on today more than ever. Despite a few of the best quarterbacks in college football leaving school for the NFL Draft, including Marcus Mariota, Jameis Winston and Brett Hundley, there is a strong crop of quarterbacks still in the college ranks. This is a look into some of the top signal callers entering the 2015 season.
Ohio State Buckeyes: Braxton Miller (rSr), JT Barrett (rSo), Cardale Jones (rJr)
There is such a thing as a good problem to have, and that is what the defending National Champions are going through right now. Braxton Miller has been a great contributor in his time in scarlet and gray, and he bleeds for the Buckeyes. After he was injured early in 2o14, however, JT Barrett stepped in and had one of the best seasons that a Big 10 quarterback has ever had. And of course, to top it all off, Cardale Jones stepped up when Barrett went down, leading the Buckeyes to victories over Wisconsin in the Big 10 title game, Alabama in the Sugar Bowl and Oregon in the National Championship game, in that order. Three stellar quarterbacks, one starting job.
Miller seems to be the odd man out at this point. He's had a very solid career to this point, there is no doubt about that, but he is the oldest of the trio, and frankly, Barrett looks like he could be even better than Miller when it's all said and done. Miller has been highly successful in his time at Ohio State, leading the team to a combined 22-2 record since 2012, with very solid statistics:
| | | | | | |
| --- | --- | --- | --- | --- | --- |
| Completion % | Pass Yds | TDs | INTs | Rating | Rush Yds |
| 60.9 | 4,133 | 39 | 13 | 149.29 | 2,339 |
Braxton Miller is a good playmaker. With the ball in his hands, Miller can find a way to beat you. He's not the greatest passer but he's efficient enough, and he can destroy you with his legs. There are problems that exist with him, however. There are injury concerns, for one. He has taken plenty of shots during his time in Columbus, and that wears on everyone, even college players. He's also the oldest of the group, and while experience is good, it's negated by the elite talent of the other players on the depth chart. You also have to take into consideration that while he isn't quite as good of a runner, Barrett is a much better passer, and Cardale Jones has a strong arm as well, plus he is built like a linebacker. Miller says he wants to stay with the Buckeyes, but if he is lookoing to play at the next level, he frankly will need to transfer, both to find a coach who can help him to better adjust into the mold of an NFL quarterback, and also just to get playing time.
JT Barrett, for lack of a better term, is the total package. He is the best passer of the OSU quarterbacks, and he is also a capable runner. Despite not being named a finalist, Barrett was deserving of Heisman consideration in 2014. His numbers speak for themselves:
| | | | | | |
| --- | --- | --- | --- | --- | --- |
| Completion % | Passing Yds | TDs | INTs | Rating | Rush Yds |
| 64.7 | 2,834 | 34 | 10 | 169.8 | 938 |
The argument can be made (and it is made quite often) that despite the athleticism of Braxton Miller and the performance of Cardale Jones in the College Football Playoff, JT Barrett is the best quarterback on the Ohio State roster, and his numbers through his first 12 starts prove tend to prove that. It is likely that Barrett will enter the season as the starter, and he will be a Heisman Trophy favorite from the opening snap of the season. With a year of experience under his belt, Barrett could be not only the best quarterback, but the best overall player, in the country next season.
Cardale Jones is an interesting case. He is entering his (redshirt) junior season, and he only has three starts under his belt. Then again, those three games were under the bright lights and he was fantastic. The strongest and most punishing runner of the three, Jones also has a very strong arm and can be a very efficient passer, as he showcased during his time under center for the Buckeyes. His stats from his three starts are quite impressive:
| | | | | | |
| --- | --- | --- | --- | --- | --- |
| Completion % | Passing Yds | TDs | INTs | Rating | Rush Yds |
| 60.9 | 860 | 7 | 2 | 160.2 | 90 |
Jones had a chance to leave OSU for the NFL Draft, but elected to stay in school. He could start the season as the starter for Urban Meyer's squad, but he will likely be backing up at least Barrett, if not both him and Braxton Miller. If both of those players stay healthy, Jones may not see much game time at all in the 2015 season. If someone goes down, however, or Meyer looks to shake things up, don't be surprised to see Cardale Jones lead the Buckeyes to plenty of victories while under center. This Ohio State quarterback group is stacked, and they should have no troubles from the position in 2015.
USC Trojans: Cody Kessler (rSr)
Another 2015 Heisman favorite, Cody Kessler is arguably the best pro-style quarterback in college football. Kessler could have left for the NFL, but elected to return for one final year in order to improve his draft stock. 2014 was a solid year for Kessler, as he helped lead the Trojans to a 9-3 record and a win over Nebraska in the Holiday Bowl.
| | | | | | |
| --- | --- | --- | --- | --- | --- |
| Completion % | Passing Yds | TDs | INTs | Rating | Rush Yds |
| 69.7 | 3,826 | 39 | 5 | 167.1 | -152 |
Don't let the rushing yards fool you; yardage lost on sacks is attributed to quarterback rushing yards in the college game, and considering the number of sacks Kessler took in 2014 (32), that stat can be misleading if being used to determine something like athleticism or escapability. It is proof that he is a prototypical pocket passer, however. Kessler has a decent build, standing 6'1", weighing 210 pounds, and he is as accurate as it gets in major college football. He is efficient and has a solid arm, all of these being traits of a top-tier quarterback. The one question is whether or not he will be able to have as much success with a new group of weapons around him. Top receiving threat Nelson Agholor is headed to the NFL, as is George Farmer, leaving Kessler without his top two options in the receiving corps from last season. Running back Javorius "Buck" Allen is also headed to the draft, leaving the Trojans with yet another offensive spot to fill. If Kessler is able to put up good numbers and a good record with a new group of weapons, he will be the clear cut Heisman favorite, and will likely be hailed as the best quarterback in the country.
TCU Horned Frogs: Trevone Boykin (rSr)
An unsung hero for a good part of the season (at least nationally), Trevone Boykin had a fantastic 2014 campaign. Originally a receiver, Boykin has come into his own as one of the country's best dual-threat quarterbacks. His arm is underrated, being able to both fit balls into tight windows and also stretch the field with his long ball, while his legs are deadly when he gets outside of the pocket.
| | | | | | |
| --- | --- | --- | --- | --- | --- |
| Completion % | Passing Yds | TDs | INTs | Rating | Rush Yds |
| 61.2 | 3,901 | 33 | 10 | 145.9 | 707 |
2014 was the first year the TCU was able to win games because of their offense instead of their defense under Gary Patterson, and Boykin is largely to thank for that. He was able to shred teams all seasons long, and with another year of experience he should be able to continue that trend. He is another dark horse candidate for the Heisman Trophy, and if TCU has another season as good as their 2014 one was (or better), it could be Boykin's award to lose. The arm strength and running ability isn't the question, but his consistency on intermediate passes is. Boykin has the ability to fit balls in tight windows, but he will be able to lead the Horned Frogs on an unstoppable tear in 2015 if he can improve his consistency on intermediate throws. But of course, if all else, fails, Boykin is still one of the best in the game when it comes to making you pay with his legs.
Michigan State Spartans: Connor Cook (rSr)
Rumors were swirling at the end of the season that NFL scouts were salivating over the prospect of landing Connor Cook in this year's NFL Draft. However, Cook decided to stay at Michigan State to improve for one last year. The potential is all there for Cook, but the numbers aren't always:
| | | | | | |
| --- | --- | --- | --- | --- | --- |
| Completion % | Passing Yds | TDs | INTs | Rating | Rush Yds |
| 58.1 | 3,214 | 24 | 8 | 149.4 | 80 |
Cook has the prototypical quarterback build, standing 6'4" with a slight 218 pound build. As previously stated, the potential is certainly present, but this last year will be a make-or-break year for both Cook and the Spartans. Cook has shown flashes of brilliance, but also lapses in judgment and ability. On the final drive of the Cotton Bowl versus Baylor, Cook made multiple surprising and poor plays, but eventual made a good play to set up the go-ahead score. If Cook can put it all together this year, Michigan State could rival Ohio State as the favorites in the Big 10. He has the size, the arm strength and the football IQ to be incredibly successful, but the question is whether or not he can put it all together at once.
Mississippi State Bulldogs: Dak Prescott (rSr)
Dak Prescott is a real wild card entering 2015. He looked phenomenal to start 2014, leading the Bulldogs to the #1 spot in the polls for a time. But as the schedule got more difficult, the success was somewhat curtailed for MSU and Prescott.
| | | | | | |
| --- | --- | --- | --- | --- | --- |
| Completion % | Passing Yds | TDs | INTs | Rating | Rush Yds |
| 61.6 | 3,449 | 27 | 11 | 151.7 | 986 |
Prescott is a great running quarterback. He tore teams up all season long in 2014, rushing for over 100 yards in 4 of 13 games, with over 75 yards in 7 of them. His passing is where the questions lie. If he can remain consistent passing the ball, Prescott could be the best quarterback in the SEC in 2015. That is a big "if" though. Prescott, and the Bulldogs in general, were able to steamroll the weak teams on their schedule, while they struggled against tougher teams (losing against Alabama, Ole Miss and Georgia Tech in three of their last four games). You don't need to have the sought-after NFL intangibles and throwing ability to be a successful college quarterback, in fact some of the best college quarterbacks don't (look no further than one of the greatest players in college football history, Tim Tebow). Consistency is key though, as is the ability to perform well against top-tier opponents. Quarterbacks aren't entire teams, but they are the biggest team leaders, at least offensively, and Dak Prescott will be counted on to lead Mississippi State into another highly successful season. He has the ability, but he will need to the consistency to accomplish it. That being said, there is no reason to believe that with another year of experiece Prescott cannot succeed.