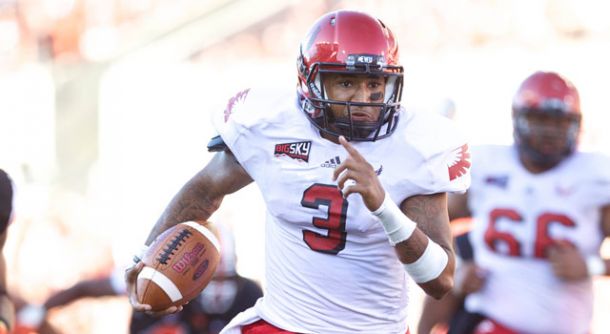 The rich get richer as the Oregon Ducks landed a very high-profile transfer on Monday morning. Former Eastern Washington Eagles quarterback Vernon Adams Jr announced that he will be enrolling at the University of Oregon once he completes his degree at Eastern in the summer.
The senior quarterback will not have to sit out for a season like a majority of transfers have to do because of the NCAA's "fifth-year transfer rule". This rule allows players who have received their undergraduate degree but still have a year of eligibility left to transfer to another school AND play right away as long as the new school offers a graduate program that the previous school does not offer.
If that rule sounds familiar, it should. Russell Wilson utilized this rule in order to transfer from North Carolina State to Wisconsin for a season before he was drafted by the Seattle Seahawks in 2012. Adams will graduate this summer from Eastern with a degree in recreation management.
Eastern coach Beau Baldwin released this quote on Monday, "I am very thankful for everything Vernon has done for Eastern and our football program these past four seasons. I wish him nothing but the best in his senior season. We are very confident in the quarterbacks in our program, and our expectations and goals are the same for what we are capable of accomplishing in the 2015 season."
Adams is favored to be the starter this fall with Oregon considering his lofty numbers with Eastern. He appeared in 37 games with the Eagles over the last three seasons completing 701-0f-1,081 passes for 10,438 yards with 110 touchdowns and 31 interceptions. That means that over his years he averaged 282 yards per game with three touchdowns per game. Mind you, a majority of those appearances during his first season were not starts.
Those numbers would be higher but he missed four games in 2014 due to injury.
For fans of Eastern Washington though, the best number that Adams earned during his time with the Eagles was 4-0. That was Eastern's record against arch-rival Montana over the last three seasons, including a big playoff win this past December. Adams completed 66% of his passes for 1,402 yards with 15 touchdowns and four interceptions in those four games.
He did perform extremely well in his two games versus Pac-12 opponents in the last two years. Eastern beat Oregon State in Corvallis back in 2013 before losing in a shootout to Washington this past season. In those games, he completed 54-of-76 passes for 886 yards and 11 touchdowns. Can you imagine what his numbers could be like in Oregon's offensive system?
Adams will have to beat out an already crowded quarterback room that includes junior reserve Jeff Lockie, sophomores Ty Griffin and Taylor Alie, and redshirt freshman Morgan Mahalak. It does look like Adams will be the favorite considering his experience, skill, and just how young the quarterbacks at Oregon are already. This will give the coaching staff more time to develop their long-term starter.
This is a big blow to Eastern Washington, who were likely to be the favorites for the FCS National Championship in 2015. They will likely turn to junior quarterback Jordan West, 6-foot-4 out of Maple Valley, Washington, to take the snaps next season. He played very well during the four game stretch where Adams was out last season throwing for 1,010 yards with eight touchdowns and a pick.
The transition should be a smooth one as well considering that Eastern returns five of their top six receivers from 2014 including junior Cooper Kupp who caught 104 passes for 1,431 yards and 16 touchdowns in his sophomore season.
Should Adams win the starting job, he will be greeted by a familiar foe on September 5th at Autzen Stadium. The Oregon Ducks welcome in, you guessed it, the Eastern Washington Eagles.