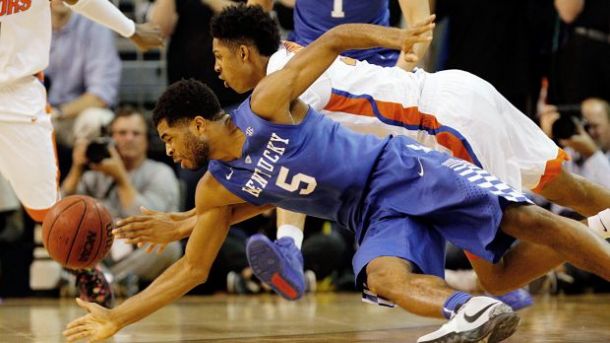 Kentucky has had trouble in Pete Maravich Assembly Center in the past. Last year's team broke into pieces once they stepped onto the court against and LSU team that gave them trouble all season long.
LSU is no different this year with the return of one of the nation's best shot blockers, Jordan Mickey. Mickey is only a sophomore and if he doesn't go onto the NBA after averaging 17.0 points, 11.0 rebounds and 3.7 blocks he'll be a thorn in UK's side for years to come.
This will be one of the loudest environments Kentucky will play in all season long. Coming off of a game at Florida these Cats should know exactly what loud feels like. There's a lot LSU can do to throw Kentucky off but there's more the Wildcats can do to stay in the ball game.
It seems as though Kentucky freshmen Trey Lyles will be missing his 4th straight game with a rather odd ordeal. Late Monday afternoon John Calipari tweeted out to the public about Lyles.
"I thought Trey (Lyles) got on plane but we can't find him." said Calipari.
Whether Lyles was able to make it to Louisiana on the plane or not one has to question if his sudden "disappearance" does have to do with his illness.
Lyles was reported by his father to have some kind of strep throat and Lyles was able to practice with the team on Monday. Calipari was unsure whether to play him for the LSU game but he would have him make the trip.
With the loss of Lyles that will hit Kentucky at the rebounding position once again. Lyles was an outstanding rebounder and LSU will be knocking the Cats around the boards with their size to match Kentucky. Very little teams are able to match up as well as the Tigers to against Kentucky.
If LSU plans on having their best shot at winning this game it starts with Jordan Mickey. As long as Mickey is having a good game LSU should have all the momentum in the world. The Tigers should look to use their size to get the Kentucky bigs into early foul trouble.
Pat's Picks
Jordan Mickey- Was there any other Tiger to pick in this game? Mickey is a fantastic defensive player and gets it done on offense in so many different ways. Mickey likely gets 15-20 points and a dominating effort by the second year player.
Devin Booker- Booker has cooled down the past few games and the he best excels in away games. He feeds off of the energy of the crowd and that causes him to play better. Booker will shoot a decent night from the three but will score in other ways as he leads the Wildcats in scoring.