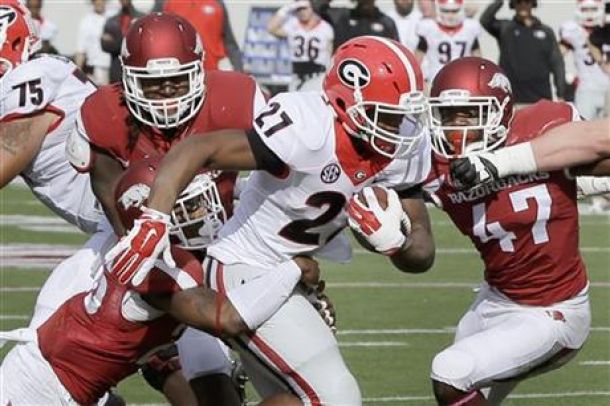 There is no doubt that modern football is a passing-oriented game. Quarterback is the most important position there is today. That being said, a good running back can be a quarterback's best friend. And of course, plenty of teams are still run-oriented, and they have seen plenty of success lately (such as Auburn and Georgia Tech). This is a preview look at some of the top running backs entering the 2015 college football season.
Ohio State Buckeyes: Ezekiel Elliott (Jr)
After a mostly unproductive freshman season (mostly because he saw the field very little), Ezekiel Elliott absolutely exploded on the scene in 2014, making a name for himself as one of the best tailbacks in the country. A great combination of strength and speed, Elliott deserves a great deal of credit for helping the Buckeyes win the National Championship this past season. Cardale Jones was fantastic and played admirably, but Elliott was absolutely dominant; in the final 3 games of the season (Wisconsin, Alabama, Oregon), Elliott ran for over 200 yards in each game, netting 696 total rushing yards in those games, good for a YPC average of 9.16, along with 8 touchdowns. His full-season statistics were amongst the best in the nation:
| | | | |
| --- | --- | --- | --- |
| Rushes | Yards | YPC | TDs |
| 273 | 1,878 | 6.9 | 18 |
Ezekiel Elliott will be the centerpiece for arguably the most talented offense in the FBS in 2015. His ability to run over tacklers, combined with his breakaway speed, is absolutely lethal. No matter which quarterback is taking snaps for OSU, Elliott can be relied on to succeed and move the chains. As with any running back, the biggest question is whether or not he can stay healthy as a workhorse back, but there is no reason to think that he won't be able to hold up. Elliott ran for over 100 yards 9 times in 15 games last season, an impressive feat on its own. When taking into consideration another offseason to improve on technique and to work on his build even more, he could be unstoppable this upcoming season. In today's game, the only way for a running back to compete for the Heisman Trophy is to have an unbelievable, record-setting type of season; Ezekiel Elliott is primed to have one of those seasons in 2015.
Georgia Bulldogs: Nick Chubb (So)
Todd Gurley was arguably the best running back in the nation in 2014, tearing apart opposing defenses all season long. Many followers of the UGA program firmly believe that Nick Chubb could be even better than Gurley. The signs are there to support this notion. Chubb became the featured back for the Bulldogs in Week 6, when the team took on Missouri in Columbia, he rushed for over 100 yards in each game from there on out, including a 266-yard performance in the Belk Bowl, second all-time in a single game in Georgia history.
| | | | |
| --- | --- | --- | --- |
| Rushes | Yards | YPC | TDs |
| 219 | 1,547 | 7.1 | 14 |
Chubb's numbers are even more amazing when you consider he was the featured back for just over half the season (including one game in which he split carries with Gurley). Prior to Week 6, Chubb had 31 carries for 224 yards with 2 touchdowns. The SEC has had plenty of great running backs in recent years, but Chubb may be one of the best. With a low center of gravity and almost unrivaled breakaway speed, Chubb is a beast with the ball in his hands. Georgia has plenty of question marks that they will need answers to, but Chubb is not one of them. Herschel Walker is one of the greatest players in college football history, and it's impossible to predict that his SEC (and UGA) record of 1,891 rush yards in a season will be broken, but Nick Chubb is a great candidate to accomplish that this season, pending a fully healthy campaign.
Alabama Crimson Tide: Derrick Henry (Jr)
The rich always seem to get richer, and that continues to be the case in the Alabama backfield. The latest in a long line of great Crimson Tide tailbacks, Henry excelled as both a change of pace back and as the featured back last season for Lane Kiffin's Alabama offense. The second option for most of the season behind TJ Yeldon, Henry picked up a bigger, more impactful role as the season went on in 2014.
| | | | |
| --- | --- | --- | --- |
| Rushes | Yards | YPC | TDs |
| 172 | 990 | 5.8 | 11 |
Henry is a larger back, standing 6'3" and weighing 241 pounds, making tackling him a difficult task for even the finest defender. A strong offensive line for Alabama will of course help Henry and the entire offense this season, but he does a great job of shaking tackles and carrying defenders with him. It is yet to be seen whether or not Henry can hold up to a workhorse load of carries, but there is no reason to doubt that he can. Henry is set up to have another big season in a long line of great years for Bama running backs, and he could be one of the most impressive runners in the entire country in 2015.
Oklahoma Sooners: Samaje Perine (So)
Perine made a name for himself in the second to last week of the season in 2014, setting the NCAA Division I record for rushing yards in a single game, with 427 yards against Kansas on a rainy day in Norman. Another young back, Perine will be the centerpiece of the Sooners' offense in 2015.
| | | | |
| --- | --- | --- | --- |
| Rushes | Yards | YPC | TDs |
| 263 | 1,713 | 6.5 | 21 |
Touchdowns on their own are an incomplete statistic, a product of opportunity more than sheer skill. That being said, 21 rushing touchdowns in 13 games is incredibly impressive for anyone. Perine is another back who is hard to tackle, using his low center of gravity and deceptive quickness to his advantage frequently. He also has an arsenal of moves in the open field, something the nation was exposed to in his record-breaking performance in November. Perine is still a relative unknown to most of the country, but that will not be the case by the end of 2015. Don't be surprised to see Samaje Perine leading the Big 12 in rushing yards this coming season.
Pitt Panthers: James Conner (Jr)
James Conner is not a household name in college football, which can mainly be attributed to his team's mediocrity in the past couple of seasons. The incoming junior from Erie, Pennsylvania, is no slouch, however. Another big-bodied back, Conner is a punishing runner who is more than capable of shouldering an entire offense.
| | | | |
| --- | --- | --- | --- |
| Rushes | Yards | YPC | TDs |
| 298 | 1,765 | 5.9 | 26 |
As previously stated, the sheer number of touchdowns that a player scores is not a true indicator of skill and talent, however 26 rushing scores is incredibly impressive. Conner has the ability to take control of an offense when he is given the oppotunity. A tall, muscular tailback, he is a powerful runner who can shed tackles and simply run over defenders. With 7 100-yard games in 2014, including 2 with over 200 yards, Conner will dominate ACC defense in 2015, and he'll need to; Pitt's passing offense is weak and they depend on the ground game. You have to be concerned about the wear and tear on the body of a back like Conner, who takes as much punishment as he doles out, but as long as he can stay on the field, he will have a highly successful 2015 campaign. He likely won't get the national recognition he deserves, but keep an eye on James Conner this season; he will be an impressive sight.