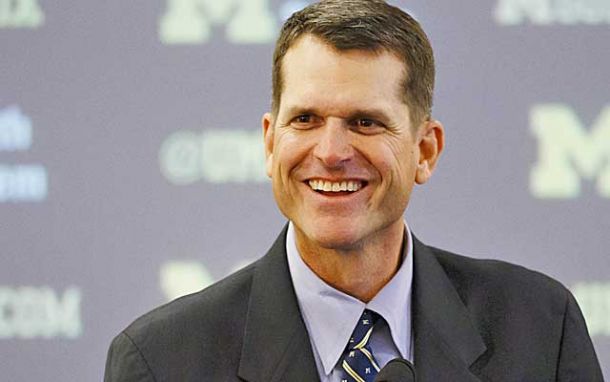 Few would argue that the University of Michigan football program scored an impressive off-season coup with the hiring of Jim Harbaugh as its next head coach. Arguably, given Harbaugh's outstanding success as head coach of the San Francisco 49ers, one could make a pretty strong case that the Michigan higher was more impressive than any new coaching hire in either college or pro football.
The news of Harbaugh agreeing to come home to Michigan, a place where he both grew up and starred as a quarterback prior to his NFL playing career, had enough juice to put the Wolverines on par with Ohio State Buckeyes in the early January news cycle. Unfortunately for Wolverine fans, Michigan has not been on par with their hated rival much on the field in the last decade. Nearly everyone who wears maize and blue - either literally or figuratively - as well as most knowledgeable college football fans expect Harbaugh to change that.
Not that anyone is really expecting Michigan to dominate Urban Meyer's Buckeyes the way the Wolverines did John Cooper's Ohio State teams in the 90s (Or, are they?), but expectations of regular victories over Ohio State and Michigan State, as well as contention for the Big Ten championship, as well it's return to national prominence, are the standard. And that's exactly how it should be.
Harbaugh's honeymoon has been fun to watch, befitting the image of the return of a happy, and well-credentialed, prodigal son. Michigan students, fans, players, recruits, and alumni all swooning as their conquering hero sheepishly took the mic at a Michigan basketball game the same night of his introduction as head coach and assumed successor to the storied lineage of Fielding Yost, Bennie Oosterbaan, Fritz Chrysler, Bo Schembechler (for whom Harbaugh played), and Lloyd Carr. Great theater. Heartwarming and intriguing stuff for all who witnessed it, except likely the good folks who bleed the scarlet and grey of Ohio State or perhaps the green and white of Michigan State.
Soon, as it always does, the novelty and wonderment of an alumni of such accomplishment returning home to rescue his alma mater will wear off. That's not to say the excitement will wear down, as Wolverine fans will likely still be pinching themselves that a coach with Harbaugh's quickly earned pedigree eschewed what would have definitely been multiple NFL offers to come back to Ann Arbor.
But, when the ball is kicked off against Utah in the opening game, it will be about is wins and losses, as it always is everywhere in major college football. Some might say that, surely, Harbaugh will be cut some slack in his first year. He doesn't return a quarterback who has ever thrown a TD pass in a college game, plus the team was 5-7 last year! Ahhh, we can be assured those saying that are, in addition to being kind and realistic, not at all familiar with the ever impatient Wolverine Nation.
Oh, sure, Harbaugh will be cut some leeway because of who he is as a Wolverine playing legend, as well as what he accomplished at Stanford and with San Francisco. But, not too much. Michigan returns 19 regular starters, among the most in the country. Additionally, despite all the justified criticism of the Brady Hoke regime, one thing that even Hoke's most ardent critics couldn't say was that the man didn't recruit well, at least as far the national recruiting services are concerned. Harbaugh will be taking over a team chock full of former four and five star recruits who haven't all shown that on the field. But, the talent is there.
Michigan fans will expect the team to show more explosiveness, be more technically sound, and - for Heaven's sakes! - exhibit more toughness on the field. It's hard to imagine they won't get what they expect to a large degree. One need only to look at Harbaugh's turnaround at Stanford, inheriting a team that was 0-11 before his arrival and in two seasons they beat a #1 ranked USC team and in three seasons were playing in the BCS...all while knocking people around. Harbaugh didn't have anywhere near the talent to start in Palo Alto that he has now to begin at Michigan.
You have to expect that Harbaugh's success in matching wits with the best coaches in the NFL, while taking the 49ers to three NFC championship games and a Super Bowl in his four seasons there, will bode well in a Big 10 conference that suddenly has a surplus of elite/excellent coaches in Meyer, Mark Dantonio, James Franklin, Jerry Kill, and Mike Riley, to name a few.
Michigan's non conference schedule is challenging, with Utah, Oregon State, and BYU on the slate. Plus, the conference schedule includes visits from the National Champion Buckeyes and the Spartans, as well as a trip to Happy Valley to meet Penn State.
Still, most Michigan fans will expect the Wolverines to significantly improve upon last season's five win mark. Heck, as bad as Michigan was last year, it was a one score game on the road against Ohio State well into the fourth quarter. The nation's winningest all time program is not known for its patience. (Ask Rich Rodriguez if you don't believe this writer one this one). A five year rebuild will not do and even a two year reload will test the patience of win-starved Wolverine fans sick at the sight of those hated Spartans and Buckeyes thriving while Michigan flails.
Yes, the honeymoon will be brief and the gushing love for the new coach will dissipate if Michigan struggles mightily in 2015. Fair or not, the best guess here is that most Wolverine fans expect 9-10 wins with one of those victories coming over blood rivals Michigan State or Ohio State with both games being at home. A tall order, but that is the expectation that Harbaugh has walked into at Michigan. He knows it. And do you know what? That expectation shouldn't be anything less.