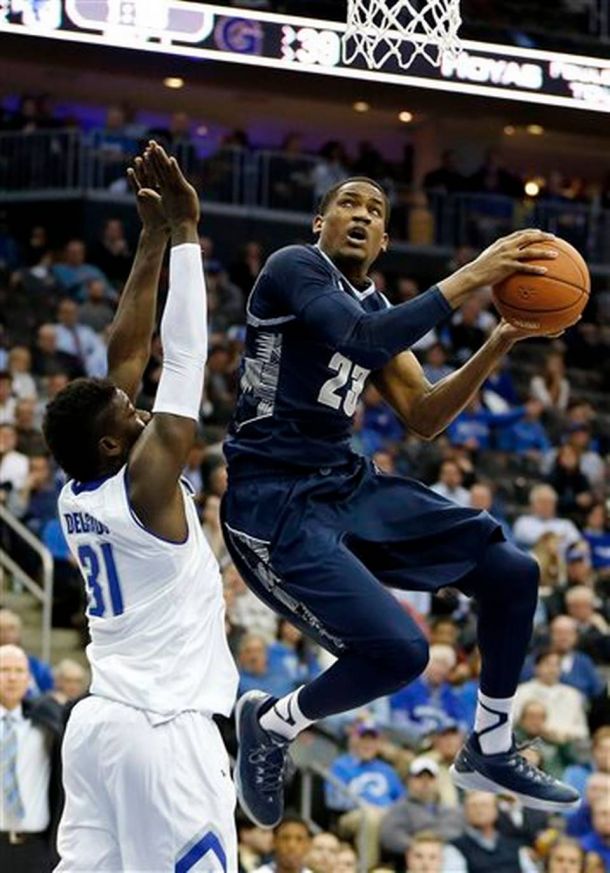 Tonight was a battle between two Big East powers coming off of 2 consecutive losses. Georgetown had been humbled by conference contenders Providence and Villanova, while Seton Hall was looking to rebound after two embarrassing losses to DePaul and Marquette. After 40 minutes of action, the better team was obvious as D'Vauntes Smith-Rivera and Isaac Copeland led the Hoyas to a mollywhopping of the Pirates, 86-67.
Georgetown came out of the gate swinging, using the kickout three to stun the lackadaisical Pirates. Smith-Rivera had 14 points in the first half, getting to the line often and nailing some open jumpers. Veteran Hoya Jabril Trawick pushed his way to the paint often for some easy layups, and Isaac Copeland hit some timely 3's. The poor defense from Seton Hall would continue, but they did get back in the game behind the always energetic Angel Delgado and leading scorer Sterling Gibbs, and after freshman Isaiah Whitehead drilled a 3-pointer with 9 seconds left in the 1st, it was 43-38 at the break.
When the 2nd half commenced, Isaac Copeland took over. He scored 12 in the first 8 minutes for the DC Dogs, owning the Seton Hall Pirates from outside and down low. The pure balance of Georgetown's offense flustered the New Jersey natives, as John Thompson III's team got out of Newark with a blowout victory.
It's been an all-around disaster lately for Kevin Willard's Pirates. From a defense that is easily fooled to low shooting percentages, it's culminated into a drop out of contention for the Big East title. This was youngster Isaiah Whitehead's 4th game back after an injury that held him out for much of the Pirates' early Big East schedule, and he hasn't been the same player since. His scoring touch has not returned, and he's caught the turnover bug, as he was 2-7 shooting tonight along with 6 turnovers. Freshman point guard Khadeen Carrington has also struggled during this 3-game losing streak, going 1-6 tonight with 3 turnovers. If Seton Hall wants to get back in the swing of things of their hectic conference, the team will have to become more than the Gibbs-Delgado show. They have a tough game against Providence on the road on Saturday.
As for Georgetown, they needed this victory after a disappointing stretch. This past Saturday against Villanova, the Hoyas' backcourt had one of their worst performances of the year, as D'Vauntes Smith-Rivera 1-7 for 2 points. Tonight they eradicated their struggles, as Smith-Rivera and Trawick roared for a combined 35 points, taking less ill-advised shots than they did on Saturday. Also, if Isaac Copeland can continue with the energetic play he showed tonight, the Hoyas should be in great shape in the home stretch for the Big East crown. The Hoyas will get a week off and will hit the court again next Tuesday at home against the hungry St. John's Red Storm.