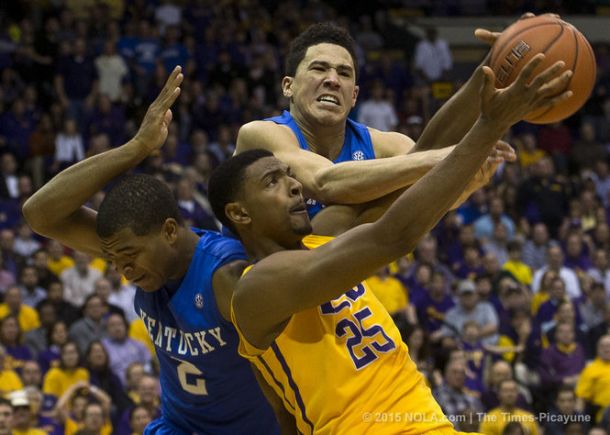 BATON ROUGE, LA — Coach John Calipari arrived tonight at the Pete Maravich Assembly Center, hoping he would have a stress free birthday. The LSU tigers had a different idea.
The Tigers, behind Mickey and Martin, did their best to spoil the hopes of an undefeated season for UK.
The top-ranked Wildcats took LSU's best shot, withstanding a huge 21-2 onslaught in the second half. They showed poise as the game came down the stretch, showing why they are the heavy title favorites and escaped with a 71-69 victory on Tuesday night.
"They attacked us, but we just played," said Coach Cal, whose team lost to LSU once last year and was a Julius Randle put back away from getting swept by the Tigers during regular season play. Calipari knew this LSU team has great talent and would be ready for a fight.
Even the best shot from the team out of Baton Rouge at home, was not enough to take down the unanimous number 1 team in the nation.
Willie Cauley-Stein had 15 points and Freshman Devin Booker poured in 14 for the Wildcats, who improved to 24-0 and the second best start in school history. They are just one win away from matching the best start achieved by Adolph Rupp's team in 1953-54.
Not per usual, Kentucky (11-0, SEC) did not win this game with its historically great defense. Kentucky won with balanced scoring and offensive rebounding. Four wildcats ended in double figures, and the team pulled in 17 boards on the offensive glass. None of those boards were bigger than Towns' with 16.2 seconds left in the game.
As the victim of constant criticism, Andrew Harrison is used to being in the spotlight, especially as a PG under Coach Calipari. He has shown that this is his team, and continues to push the Cats through the SEC with his leadership ability. "Andrew was outstanding, attack mode, pass and score, layups, defending, really great!" Calipari was quick to let the world know his approval of the Sophomores game tonight.
We can't forget, who could be now called, the second coming of, "The Human Highlight Reel". Willie Cauley-Stein was in poster mode tonight as he dunked over, what seemed like, all of Baton Rouge. He is simply an athletic freak of nature and it shows with his quickness, speed and ability to guard all 5 positions on the floor. After a few games where he seemed to be in right field picking daisies, Cauley-Stein has reinserted himself into the national scene and reminded us all why he is a candidate for the Wooden Award.
As for LSU, Jarell Martin posted a double-double with 21 points and 11 rebounds. Followed by his highly talented front court teammate, Jordan Mickey, with 16 points and 7 rebounds. The Tigers are now 17-7 (6-5, SEC).
The Tigers game plan was obvious from the tip. Take it into the post, attack, and play through Mickey and Martin. Even though they lost the rebounding battle to UK 40-35, the tigers looked like they could handle themselves in the post with seemingly endless amounts of 7-footers roaming the paint. UK recorded 8 blocks for the game (I think that is a very stingy number), but, LSU scored many baskets over the outstretched arms of the Kentucky front court.
Starting the game with a 10-2 flurry, LSU was feeling good after only 3 minutes of game time behind them. The arena was rockin' behind a pair of Jordan Mickey dunks during that run. It looked good and felt good for the Tigers. Then, UK showed itself. Not the rim rocking, shot blocking, future NBA players making Sportcenter Top 10 plays, but, the Cats that slowly eat away at you like you are a Thanksgiving meal. They extinguished the lead behind Devin Booker's 7 straight points. Showing off his NBA ready offensive skill set, that is not confined to the perimeter.
It took time, but after a Tyler Ulis steal and breakaway, Andrew Harrison stepped up to the line and sank two free throws to give UK the lead at 34-32. Which they kept up to go into halftime with a 38-34 lead.
After the break, it looked like UK was going to put it away, showing great offensive sets and pouring in points from everywhere on the floor. When Andrew Harrison pulled up for a 3 with 12:39 to go, Kentucky went up 58-45 and people started to get uneasy in the arena, some even headed for the doors.
Then LSU showed up for its Super Bowl game, with a sold out crowd for the first time since 2006. They went on a 21-2 run, where it seemed like UK had fallen asleep. It was dynamic, and showed the strength of the SEC and it put the Tigers up 66-60.
With 1:45 to go in the game, LSU was hanging on to its lead 69-68, when Karl Anthony-Towns made a move to the lane and put up a jump hook that hit nothing but the bottom of the net to regain the lead for Kentucky.
Then, for what seemed like the first time all game, UK's defense locked down and held LSU to a shot clock violation on its next trip down the floor.
With 16.0 seconds left, Towns showed veteran poise when he pulled down an offensive board and reset the offense up top with Devin Booker who was immediately fouled. Sinking 1-2, Booker left the door open for LSU to make a miracle happen in Louisiana.
With 6.6 seconds remaining, throwing the ball in from the sideline, Jones had drew up a play for their hottest perimeter shooter of the game, Hornsby, that was highly contested, and banked off the back of the rim.
Escaping with an undefeated record wasn't all the Coach Calipari was thinking about though. Diverging that he told his team, "I hope we lose," after a technical foul on Towns for hanging on the rim for an extended amount of time.
We all know that Cal didn't want to take his first loss on the year, on his birthday. Luckily for him, he had a group of McDonalds All-Americans behind him to take care of business, finishing off the Tigers 71-69.
Up next:
Kentucky: Returns to Rupp Arena to face South Carolina on Saturday at 2:00 PM EST
LSU: Travels to Knoxville to face Tennessee on Saturday at 3:00 PM EST