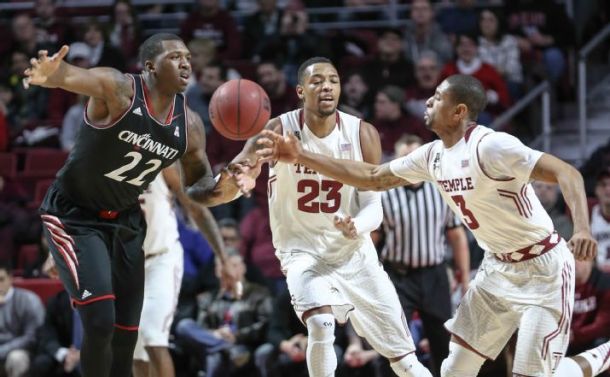 The Temple Owls have avenged their most recent loss by defeating the Cincinnati Bearcats 75-62 on Tuesday night. This is the sixth straight win for the Owls and the victory also ends Cincinnati's steak of holding opponents to under 70 points. Cincinnati's streak was the longest in NCAA Division 1.
The last time these two teams squared of Cincinnati defeated Temple back on January 17th. However, Temple did not have their leader Will Cummings in that game. The Owls did have their leader tonight and he made a big difference. The Senior finished the game with 21 points on 7/13 shooting. Temple missed Cummings but the Bearcats certainly did not.
The Owls came out extremely balanced offensively in the first half. Jesse Morgan got Temple going early in the first half by knocking down two three pointers. The Owls started the 1st half by going on a 13-5 run which forced Cincinnati coach Larry Davis to take a timeout. Cincinnati then went on an 8-2 run and it appeared that they were back in the game. However, Temple then made consecutive three-pointers to increase their lead back to double-digits. The largest lead that the Owls had in the 1st half was 11 and they were never behind. Temple led 36-25 at the break.
The Bearcats actually managed to shoot the ball better than Temple in the 1st half, but they were killed by turnovers. Temple forced 11 Cincinnati turnovers in the first half and they committed just three themselves. Temple took advantage of all the Cincinnati turnovers by managing to score 19 points off turnovers. The Owls finished of the half with a 19-2 advantage in points off turnovers.
Cincinnati started off the 2nd half with some momentum as they came out with a 7-2 run. However, Temple once again made a big three-pointer when they needed to and took control of the contest again. The Bearcats then fell apart offensively and defensively and allowed Temple to go on an 11-0 run. That would seal the deal as Cincinnati wasn't able to fight back in the game. Temple would win by a score of 75-62.
Temple's defense, which allowed opponents to score 78.1 ppg last season, is holding opponents to just 60.4 ppg this year. That improvement of 17.7 ppg ranks in a tie for third among all division 1 teams this season.
When Temple's Head Coach Fran Dunphy was asked how his defense improved so much in just one year all he said was "Jaylen Bond"