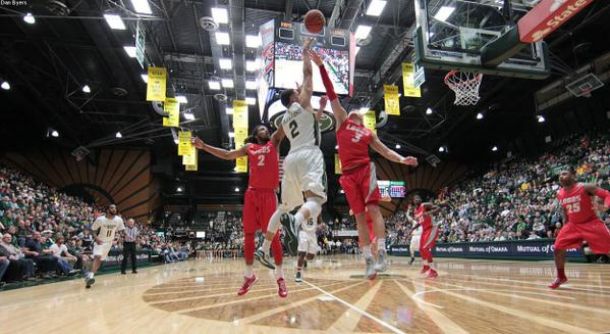 At the Moby Arena in Colorado Springs, Colorado, the Rams came away with coach Larry Eustachy's first ever win over New Mexico as they defeated the Lobos by a score of 70-59.
Colorado State busted out of the gates by hitting three 3's as they went on a 10-2 run early in the ball game, with three's coming from Joe De Ciman and Daniel Bejarano. The Rams played good defense early on this match, limiting New Mexico to tough jump shots with hands in their faces. It took nine minutes for the Lobos to score 10 points, but luckily for them, they were down by just six points. However, the home school went on another run, scoring 14 consecutive points as CSU got points from multiple players. New Mexico continued to struggle shooting the ball in the first half as they finished with a mere 19 points.
The second half started out with a bang as both sides were matching each other shot for shot. But then both teams struggled to get the ball into the basket, and this was the killer blow for UNM as four minutes ticked off the clock without a point. With a minute and 49 seconds left to go in the game, Bejarano another three extending the lead to eleven points. Their last six points came from the charity strike as they made six out of their eight attempts in the last 41 seconds of the second half.
For the home school, CSU, it was the big man J.J. Avila with 18 huge points, making 50% of his shots, and draining 8 of his 11 attempts from the free throw line. He imposed himself inside and was dominate on the glass, coming away with a team high seven rebounds. De Ciman was fantastic from beyond the the three point line as he made 57% of his shots from deep. As a whole, however, the Rams were not very good from long range, as they made just eight of these shots, while attempting 23. They will have to get much better as a whole in this area if the want to cause a couple of upsets in the NCAA tournament this March.
New Mexico didn't look great in the first half, but really turned it on in the latter part of the game, shooting below 40% from the field. Senior guard Deshawn Delaney was impressive, however, as he lead both teams with 21 points, making 8 out his 14 attempts from the field. But this was the only production the Lobos got last night, as Xavier Adams was the only other player to score in double figures.
The Rams' next opponent will be the Aztecs of San Diego State this coming Saturday with New Mexico traveling to Nevada the same night.