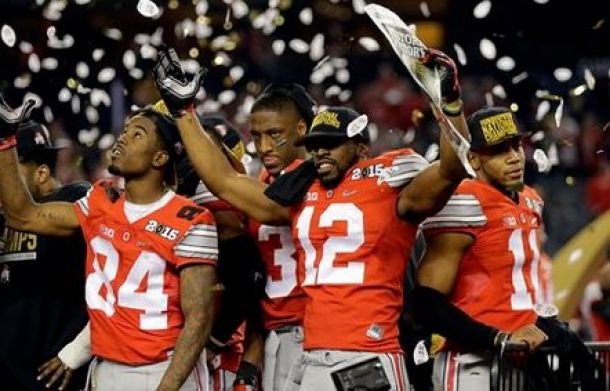 For a fan of the game, the college football offseason is agonizing. For months, we are left waiting for football to return, and that first Thursday night game in late August cannot come soon enough. The offseason is long, and news-wise it can be slow, but that won't stop us from predicting who the best of the best will be in 2015.
So far, we have covered the best quarterbacks, running backs and wide receivers entering the 2015 college football season. Now, we are on to our early prediction of who the top five teams in college football will be this coming season.
1. Ohio State Buckeyes
It's hard to bet against the Buckeyes in 2015. Offensively, they have some of their most important pieces returning, including their quarterbacks and running back Ezekiel Elliott. It will likely be a while until we find out who is going to be OSU's starting quarterback, but frankly they cannot go wrong with any of the three options, at least in terms of on-field production. Braxton Miller brings the experience and incredible athleticism, JT Barrett is the total package and is probably the best pure football player of the trio, and we still have a lot left to learn about Cardale Jones, but he has looked like a beast in his three career starts. At least one of these players may not even be on the roster at the start of the season, but at least one will be and they will be successful. Whoever ends up under center will likely lead the Buckeyes back to the Big Ten title game.
Ezekiel Elliott needs to get plenty of respect as well, as he could be the best running back in the nation. His skillset is almost unparalleled across Division I, and he can absolutely dominate opposing defenses when the ball is in his hands. His performance in the final three games of Ohio State's 2014 season is actually underrated, which is hard to believe considering how incredible his performances were. A successful running game can set up a great passing game, and it's hard to do better than Elliott when it comes to college tailbacks. When you add in the weapons that the Buckeyes have on the outside, the entire offense is dangerous and will be hard to stop all season long.
Defensively, the Buckeyes will be just fine as well. The defensive unit will be led by incoming junior Joey Bosa in 2015, who will be looking to build on a great sophomore campaign. Frankly, the offense's ability to score at will is going to put OSU in position to win most of their games anyway, so there will be less pressure on the already fairly stout defense. Ohio State is going to be a juggernaut in 2015, and Urban Meyer's squad will be the favorites to win the National Championship again this coming season.
2. TCU Horned Frogs
There were plenty of arguments about why TCU should have made it into the College Football Playoff in 2014, however they were kept out of the final four teams. Following a Peach Bowl victory in which they destroyed Ole Miss, the Horned Frogs are on the brink of an even better season in 2015. With Trevone Boykin returning at the helm of the offense, TCU is going to be able to shred defenses again this season. Boykin is deadly with his legs, and his passing ability is nothing to sleep on either. A dark horse candidate for the 2015 Heisman Trophy, Boykin will lead a dominant TCU offensive attack again this season.
Under Gary Patterson, TCU has been known for their defense, and that is not going to change in 2015. With as good as the offense was last season, TCU's defense played a dominant brand of football once more, asserting dominance over most of the Big 12. Losing corner Kevin White will be a detriment to the team, but they have enough talent and skill that they'll be able to recover. With Baylor losing Bryce Petty, Texas rebuilding and questions still surrounding Oklahoma following last season, TCU is the clear favorite to win the Big 12.
3. Alabama Crimson Tide
Alabama is losing a ton of talent this season. Amari Cooper, Blake Sims, DeAndrew White, TJ Yeldon, Arie Kouandijo, and that's just on offense. Here's the thing about Alabama though: they never have a lack of depth or talent. If National Championships were decided by recruiting, Alabama would have won five straight. Nick Saban has done a phenomenal job of bringing in talent and building up a formidable roster year after year. No matter who Alabama loses, they will be able to compete and will rank at the top of the SEC, as well as the national polls.
Offensively, Lane Kiffin did a very good job with the Crimson Tide in 2014 and there is no reason to think that won't continue in 2015. There is going to be a quarterback battle between four capable players, including Florida State transfer Jacob Coker and the top pocket passer recruit in this year's class, Blake Barnett. And of course, Derrick Henry will be able to help whomever ends up under center, as one of the best running backs in country is going to be the central focus of the Alabama offense for much of the season. On defense, Alabama will have no problem replacing their talent, as they seem to do it every season. The Crimson Tide will be competing for a national title yet again in 2015.
4. Oregon Ducks
Oregon is going to be a very interesting team to watch this coming season. They were the runners-up in 2014, losing in the National Championship Game to the Ohio State Buckeyes, concluding an all-in-all highly successful season for Mark Helfrich's team. Of course, the loss of Marcus Mariota is going to severely impact this team, as he was far and away the best player in college football last season. His departure will change the face of Oregon football, but all is not lost, even with the Heisman Trophy winner out of the picture.
Vernon Adams is set to be one of the most intriguing players in college football in 2015. Transferring to Oregon from FCS powerhouse Eastern Washington, Adams is primed to run the Ducks offense this season. He is an explosive player who can throw and run well, not quite to the level of Mariota, but still very well. It will be interesting to see if he'll be able to perfectly mesh with the offense, having not been "raised" in the system, but with all of the talent around him, he should be highly successful.
Speaking of the talent Oregon still has, they are not lacking in terms of offensive firepower. The combination of Thomas Tyner and Royce Freeman is one of the most formidable backfields in the nation, and that elite running game is only going to help Adams, as well as the entire offense (obviously). On the outside, the likes of Darren Carrington and Devon Allen will be returning, providing plenty of explosive options across the field. The defense may have a difficult time replacing the likes of Arik Armstead and Ifo Ekpre-Olomu, but the offense for Oregon will be just fine. Oregon could be a dark horse to reach the College Football Playoff again in 2015.
5. USC Trojans
There is a lot of cautious optimism surrounding the Trojans this offseason. USC had a decent, although somewhat underwhelming, 2014 campaign, but expectations are high for 2015. They will be returning arguably the best quarterback (or at least pocket passer) in the game, Cody Kessler, who is primed to truly break out and prove himself as one of the best in all of college football. The team is missing many of its biggest pieces from last season, however, including plenty of talent both offensively and defensively.
On offense, top receiver Nelson Agholor is headed to the NFL, as is George Farmer, leaving Kessler without two of his best playmakers. Running back Javorius "Buck" Allen is also out of the picture. Defensively, future first round NFL draft pick Leonard Williams is gone, as are several other key starters. Kessler may be filled with talent and skill, but he is still going to need players to get the ball to and a defense to slow down opposing offenses. That being said, Southern California is one a few programs that will rarely ever have to worry about a lack of talent on either side of the ball.
It will be interesting to see how much of an impact many of the new USC freshmen will make this season, as they have to put together arguably the best recruiting class of the year (the only other team in contention for that title is Alabama). The picked up the #1 running back, inside linebacker and cornerback in this recruiting cycle, all of which should help the program this year (and down the road). This is a young team, with plenty of (albeit raw) talent, but they can still make plenty of noise this season. In their second season under Steve Sarkisian, the Trojans are looking to get back into the national spotlight for all the right reasons in 2015.