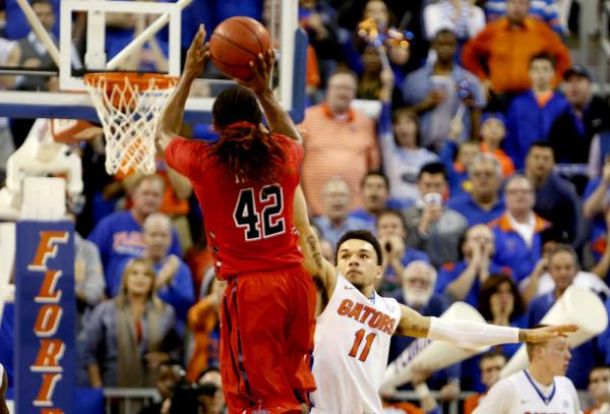 The ball never left the perimeter in the finals seconds of this game. Stefan Moody knew from the start the ball would be leaving his hands to take the lead.
Moody shot an off-balanced, contested 3-pointer and nailed it to put Ole Miss up 62-61 with 2.7 seconds remaining. Florida then threw an inbounds pass that got picked off and Mississippi walked away with a hard fought road win.
Everyone in the building knew it was going to go to Moody for the final shot. Not one person thought he could hit that kind of jumper in a tough environment to win the contest.
The game was a back-and-forth event as no team got larger than an 8-point lead. Florida controlled the first half holding the lead for the majority and through halftime. Then the Rebels of Mississippi decided they came to Gainesville to play.
It was a brawl in the second half as both teams fought for the lead the entire way. Both teams desperately needed to win this game and it all came down to who wanted it more. The Rebels answered that question once the final horn sounded.
With the loss Florida falls to an abysmal 12-12 (5-6, SEC), a kind of record no Billy Donovan coached team should see. There's little to explain Florida's lack of success with their talent and Final Four experience. The Gators just don't get along as a team, and rarely can stay a complete team for long.
Michael Frazier sat out the game due to an ankle injury he suffered during Saturday's match-up with Kentucky. A problem with Florida all season long has been trying to stay healthy and it looks like that has reared its ugly head once again in SEC play.
Mississippi moves to 17-7 (8-3, SEC) on the season with some big wins in conference play so far. The Rebels defeated Arkansas earlier this year and also took Kentucky to overtime as some resume building battles. The selection team will surely look at those two games when March rolls around.
Star Players
Stefan Moody- The player of the game easily goes to Moody. He could have scored three points and he would have it. Moody ended with 18 points and went 4-7 from behind the arch.
Dorian Finney-Smith- Finney-Smith has had better shooting nights from the outside but he finished with 14 points, six rebounds and two blocks. He only went 2-6 from long range which hurt the Gators.
Devin Robinson- Robinson looks like a promising star to be for Billy Donovan. Robinson had 14 points, seven rebounds, three assists and two blocks to cap off arguably his best game of his freshmen campaign.
Dwight Coleby- Coleby fell just short of a double-double with 11 points and nine rebounds. He also added three blocks to complete a solid game against the Gators.
Up Next
Arkansas at Ole Miss 2/14/15
Florida at Texas A&M 2/14/15