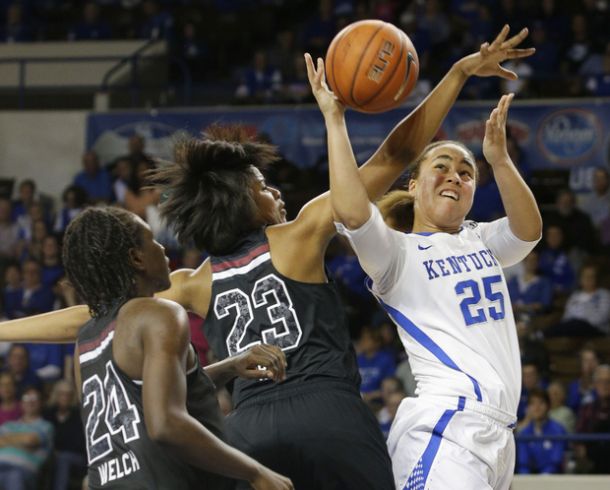 Makayla Epps drives into the lane and misses a layup with six seconds left in the game. The rebound comes off to Kentucky's Jelleah Sidney and she throws it as she's falling out of bounds.
The ball is deflected by a Mississippi State player right back into the hands of Epps who put it up and hit the game winner with 0.4 left in 2OT.
Probably one of the Lady Cats' best statement wins of the season after their floor general proved herself. This Kentucky team will focus themselves around the second year guard for the rest of the year and this win will only bring them closer as a team.
There's much to talk about in terms of Epps due to her insane scoring night. It's not every day you see a player score almost half of the points their team scored.
Enough with Epps, let's see what the Bulldogs did. Mississippi State's Victoria Vivians also scored a massive amount of points by pouring in 39 to try and match Epps.
This game was exciting to watch if you love moments where players get hot. Vivians and Epps gave those viewers everything they wanted, hitting a combined 31-59 from the field for an insane number from only two players.
Mississippi State can easily rebound from this win due to the talent level of their team and the conference they're in. No loss in the SEC is a bad loss and it'll be interesting to see if the Bulldogs use this loss to power through to the end of the year.
This win obviously boosts the confidence of the Wildcats. The Cats lost point guard Janee Thompson while facing South Carolina and haven't been able to get back to form since.
Now that Kentucky has defeated two top 25 teams in the last three games they are getting some momentum going. This UK Hoops team could finish the season strong and possibly even win the SEC in a shocking manner.
Star Players
Makayla Epps- The Cat that could be the future of UK Hoops. She's young and talented yet she already has an edge to her that no fan will be able to forget. She scored 42 points, six rebounds and five assists for easily the best game of her career.
Victoria Vivians- Vivians was the go to girl for the Bulldogs with her scoring 39 points and eight rebounds. She shot 5-10 from beyond the arc for an outstanding game for the freshmen.
Martha Alwal- Alwal helped out on scoring for Mississippi State adding 21 points and eight rebounds of her own. Any time Vivians was unavailable or taking a breather she was their next best choice.
Bria Goss- The senior put in 16 points for the only other Wildcat to score in double digits. There were little choices other from Epps but Goss provided that security.
Up Next
Kentucky at Tennessee 2/15/15
Florida at Mississippi State 2/15/15