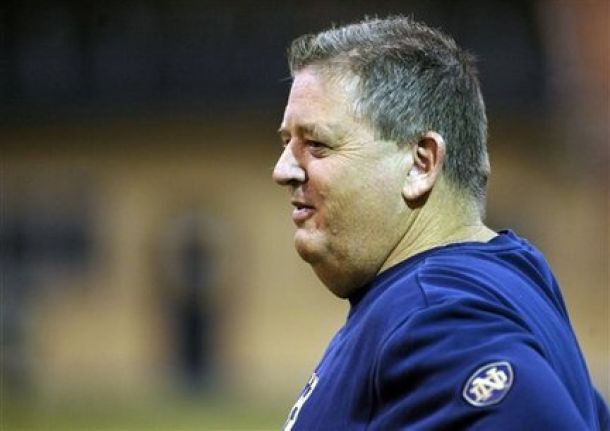 Sounding like a man more resigned to his fate than seeking time away from football, Charlie Weis believes his coaching days are over. Weis told the South Bend (IN) Tribune (via ESPN) that he is "highly doubtful" that he'll get the coaching call again, but has no regrets.
"I'm not mad at Notre Dame, and I'm not mad at Kansas," Weis said. "I don't have one regret about leaving the NFL to take the Notre Dame job. I just wish I could have lasted longer." - via ESPN
Weis capitalized on a highly successful stint as an offensive mastermind for three of Bill Belichek's New England Patriots Super Bowl Champion teams. Until this most recent Super Bowl XLIX, the Patriots had not won a title one without him. His foray into college football coaching was less successful. Weis began at Notre Dame in 2005, but after five lackluster seasons winning 35 games but losing 27, he was relieved of duty. His 57% winning percentage was the lowest in South Bend since the disastrous Gerry Foust era of the early 1980s. Weis then had an opportunity in 2012 to turn around a struggling Kansas Jayhawks program that had won the Orange Bowl as recently as 2007. Only given two seasons (plus four games into a third), he notched six wins (only one in the rough and tumble Big 12 conference) and was not showing enough progress for the school.
Weis' abrasive "my way or the highway" style did not seem to sit well with either school's administration. Additionally, he never seemed to formulate the inroads into recruiting that is necessary to win at the highest level of competition at Notre Dame or the Big 12. Perhaps being an assistant, or even consultant, is still in his future, he has a great football mind, his head coaching style just seemed to get in the way of letting it come through.