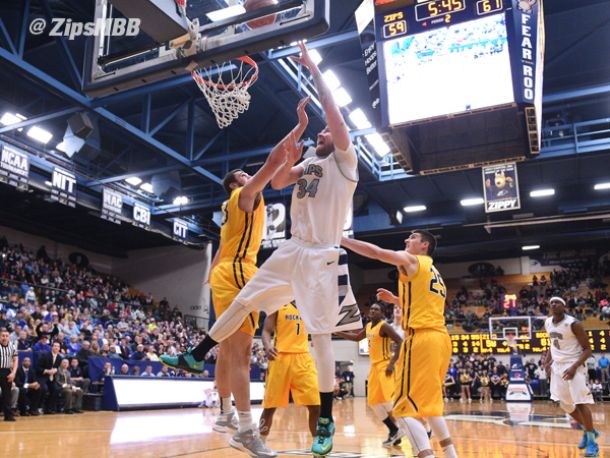 The University of Akron offered to give students a possible total of $20 dollars on their personal student cards if students attend the last three home basketball games. The specifics of the deal are that each student in attendance will receive $5.00 on his/her student card for each game attended -- as long as 800 students also attend. Students will then get a $5 bonus for attending all three games. If attendance does not reach 800, those who still attended all three games will receive $5 regardless of the attendance for those games.
The move has received national attention from the likes of Sports Illustrated, The Big Lead, SB Nation, and Darren Rovell. Remember also that Akron was in the National Spotlight for offering to give away free tuition during a football game this fall.
One may wonder how many students really do not go to games. A quest around campus halfway through fall semester resulted in asking random students how many games they attended. The number of students who did not go to any games outnumbered the ones that went to at least half the games.
But why? Unlike some big schools such as Michigan and Ohio State, student ticket prices did not go up as students can attend any athletic event for free with their student ID cards.
Is it because the teams are not good enough to watch? Well, for a football team that struggles, one might think this is the reason, but this fall, on a sunny and warm Saturday after Akron had defeated Power 5 School Pittsburgh, Marshall fans outnumbered Akron fans in Infocision Stadium. And the basketball team is among the best mid-major programs over the past ten years, so the team's ability should not be a factor there either.
While the attendance issue is felt across all Akron sports, basketball is one that has a little more success. Akron is fourth in attendance in the MAC when it comes to basketball and third in average home attendance. All this is after they did not play a game against a Power 5 school that brings large crowds (they played only Penn State, who struggles greatly with basketball attendance) unlike leaders Buffalo, Toledo and Ohio with Buffalo playing both Kentucky and Wisconsin, Toledo facing Kansas, and Ohio playing Nebraska.
The reason it is difficult to get students to games boils down to one thing: the fact that only 14% of students live in school-operated living facilities. This means about 86% of all students live off campus. This makes the job hard for an athletic department, especially with brutal winter weather, as it is hard to motivate students to battle the winter weather and poor road conditions to attend a basketball game.
Considering the numbers, however, basketball attendance has been impressive. In the Zips' game against rival Kent State, a record for student attendance in Keith Dambrot's tenure was set with 1,200 students attending. Considering around 2,500 students live on campus, it might not get much better than that.
All in all, while Akron has received criticism for this promotion, the university is doing all it can to make students want to go to games, and at the end of the day, the job falls on the students to want to attend.