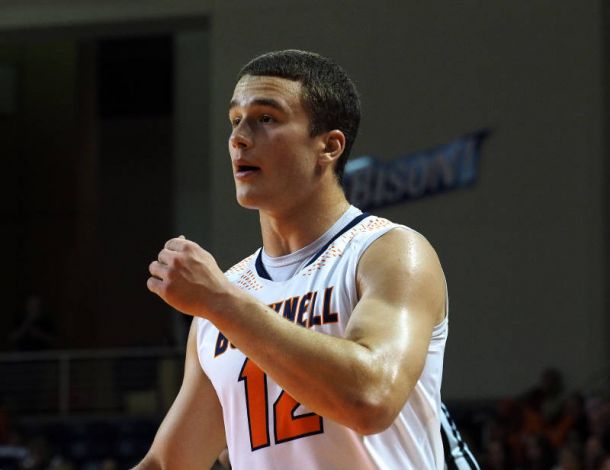 Senior Malcolm Miller knew that his Holy Cross Crusaders would need a performance for the ages to knock off the Patriot League tournament favorite Bucknell on the road, and he gave it his all, plowing into the lane to score 34 along with 8 rebounds. His super-human efforts put a scare into the hearts of the Lewisburg, PA natives, but behind an almost equal effort by Bucknell leading scorer Chris Hass, the Bison were able to stampede the Crusaders in bonus time to prevail in a 90-83 thriller.
Bucknell had led for most of the game, as the balanced attack was roaring. Chris Hass was on fire shooting, and got to the foul line often. The massive frontcourt of Zach Thomas and Nana Foulland got easy buckets in the paint, combining for 35 points.
However, in the 2nd half, Holy Cross' Miller knew that if he didn't turn it on, his career would quickly come to an end. He barreled into the paint and had a whopping 25 points in the 2nd half alone, putting the Crusaders right back in the game. Chris Hass had to convert the 3-point play to be able to tie it up for the Bison and send it to OT.
By the bonus session, HCU's Miller was worn out, only scoring 2 FTs. Hass scored 6 from the charity stripe, and a DJ MacLeay dunk put the exclamation point on Bucknell's hard fought win.
As Holy Cross' season comes to an end, Bucknell is able to advance, and will continue to use their home court advantage throughout the tournament when they invite a scrappy Lafayette squad to Sojka Pavillion on Sunday.