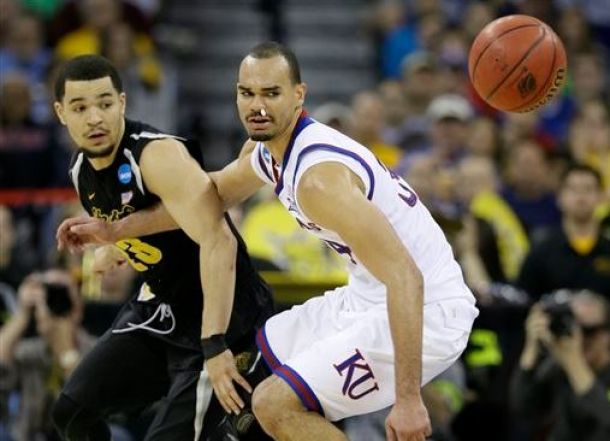 It's a ridiculous notion that two consecutive early exits for the Kansas Jayhawks in the NCAA Tournament suddenly means they are a declining program. The team has won the Big 12, arguably the best conference in the nation, 11 straight years, which is approaching UCLA's record of 13 consecutive conference titles. The team is still bringing in big recruits and is still coached by Bill Self. The program itself is not declining. On the other hand, Wichita State is not necessarily trending upwards. Yes, the Shockers upset Kansas, winning handily in the Round of 32 of this year's tournament. Yes, the team has a good coach in Gregg Marshall and a solid core of players. But the team itself could very well be on the back end of a historic, multi-year run. With all of this in mind, we are left to think about why Wichita State was able to defeat Kansas this year.
A successful team has a killer instinct. They have the ability to clamp down when they need to, the ability to fend off a charging opponent at the end of a game, the ability to put their foot down and just flat out dominate a game. Look at a team like Kentucky. They are something of a different animal this year, in that they have an absurd amount of talent to go along with intangible aspects of the game which they have mastered. Cincinnati was giving them a run for their money in their Round of 32 matchup. They kept it close for the majority of the game in fact, but the UK took over. On the back of Willie Cauley-Stein, who was relentless throughout the night, the Wildcats were able to slam the door on Cincinnati. They have a killer instinct. Wichita State has a killer instinct. Kansas does not.
This isn't necessarily an indictment of KU's ability to succeed (at least not entirely) and it isn't an indictment of character, either. However, it is a statement that makes sense of why the Jayhawks have struggled mightily early in the tournament two years in a row now. In 2014, Kansas faced off with Stanford in the third round of the big dance. KU clearly had more talent, even with Joel Embiid sitting out with an injury, but the team was lacking a certain edge, a certain tenacious group dynamic which would have created more aggressive, attacking plays and likely would have given Kansas a win. Instead, a talented but young and inexperienced team, led by the ridiculously skilled yet undeniably non-stone cold killer Andrew Wiggins, was not able to fend off the upset bid. History repeated itself this year, as the Jayhawks once again did not have that aggressive, edgy style of play that they needed. Once more, their best player (Perry Ellis) has all the talent he needs but lacks a necessary edge that the team is in dire need of.
Wichita State, on the other hand, does have that killer instinct. It is strange that this can be said of Wichita State and not Kansas, but the Shockers have been there before and they know what they need to do to win in March. They reached the Final Four in 2013 with many of the same players they have now, they know when to kick it into high gear and play a take-no-prisoners style of basketball. Ron Baker receives a great deal of flak for his style of play, the credit his receives for the team's success and his tendency to live at the free throw line. While there may be some validity to these criticisms, Baker knows how to get it done when it counts. He's not afraid to drive to the hoop and take a hit. He's not afraid to take the big shot or make a crucial play in crunch time. He's not the only one of the Shockers with this innate ability, either. Fred Van Vleet had a relatively underwhelming season, considering what most people expected of him in 2014-15. He has gotten hot at just the right time. He's been there before and he is well aware of what he needs to do to adjust his game in March to win in the tournament. Wichita State has a killer instinct, while Kansas does not.
Complacency plays a big role in the likelihood of this killer instinct being developed while playing the college game. It's hard for the Jayhawks to complain; they are one of college basketball's blue bloods and they are dominant in a very strong conference year in and year out. Greatness isn't only expected, but it's almost planned on. This isn't to say that the team doesn't want to work hard, because that is a ridiculous assumption and is would be wholly unfounded. However, Kansas is in a much different place than Wichita State is in terms of stature, expectations and history. WSU is not a blueblood, it's not a program with over 100 years of history, filled with hall of fame-caliber players and legends of the game. The Shockers are frequently, if not always, playing the role of the underdog; they always have something to prove and and a figurative mountain to overcome. They can't get complacent, because if they fall into complacency then they will be usurped by the next mid-major program with a ton of team chemistry and a strong head coach. Kansas will never be taken down from their perch on college basketball's Mount Olympus, which does leave them vulnerable to falling into a complacent state.
Teams like Wichita State don't just gain an extra benefit by honing a killer instinct and avoiding a state of satisfaction with their achievements, it is a requirement for their survival. Teams like WSU are perennial underdogs for a reason, because they don't have the sheer talent of the upper-echelon teams and they lack skills that other teams are able to replace on a yearly basis. If Gregg Marshall's team didn't employ that "step on the jugular" attitude in each game, they would be passed by in a heartbeat. This doesn't just apply to the Shockers, but to all mid-major teams that want a shot at a deep NCAA Tournament run. Survive and advance is the motto of all teams when it comes to the big dance, but it is the battle cry of mid-major teams every time they take the court. Without this attitude, there is no guarantee of tomorrow for the likes of Wichita State or any other similar program. This is an inherent difference between today's Wichita State Shockers and Kansas Jayhawks.
This lack of a killer instinct and complacent tendencies have not been the norm for Kansas throughout its storied history. It is more a product of the contemporary team, a group of talented individuals who just do not have that innate ability to stomp a team out. They have experienced great comebacks, which counters the argument being made here, but they also have experienced huge letdowns, both in terms of squandering leads and never being in games against lesser teams (see their game from this season against Temple for an example of this). There is not a lack of leadership for the Jayhawks, per se, but there is a lack of on-court influence that could induce these dominant, aggressive attitudes. For as gifted as Andrew Wiggins is, he did not show a dominant side while playing for KU. However, in the rare occasions when he would show dominance and take control of a game, he was nearly invincible (see Kansas' 2013 games versus Duke and Florida for examples of this). It wasn't consistent, however, and that hurt the Jayhawks. Perry Ellis is a very good player, but he's not a killer. The closest thing Kansas had was Cliff Alexander, a young player but one who played with a certain edge and nastiness to his game. Unfortunately, he was lost for the end of the season because of an eligibility dispute. Nonetheless, the Jayhawks were certainly lacking in this department.
Frank Mason III could be one of, if not the most, underrated players in the country. From his debut as a freshman to the time of this profiling to today, he has only improved and has done so in many facets of his game. He's still learning how to be a point guard after not playing the traditional role in high school. Mason is already the team's heart and soul, and he is certainly a leader, but he is not at the level of leadership (or at least the style) that Kansas desperately needs. Again, this is starkly contrasted by Wichita State's ingrained need for this style and attitude. When push comes to shove, a killer instinct and a feeling of never being satisfied with a performance is what causes teams to win or lose games.
In terms of pure talent, Kansas is a better team than Wichita State. In terms of coaching, you can likely draw the same conclusion. But there is much more to the game of basketball than just these factors, and that is what caused the Wichita State Shockers to upset the Kansas Jayhawks in this year's NCAA Tournament. In regard to their future, KU has proven that can always be successful and they will almost certainly continue that trend indefinitely. Wichita State may have their window of opportunity closing rapidly, as the likes of Ron Baker, Fred Van Vleet and others are running out of eligibility. These factors don't necessarily contribute to whether or not a team is trending up or down however. A team trending up will take over a game and dominate when they need to, without ever getting complacent, while a team trending down just doesn't have the ability to clamp down and force an opponent into submission, or to prevent this air of self-satisfaction. It is these reasons, not the sheer talent and skill of the players, that pushed Wichita State on to the next round of this year's NCAA Tournament and send the Jayhawks home packing, wondering what could have been.