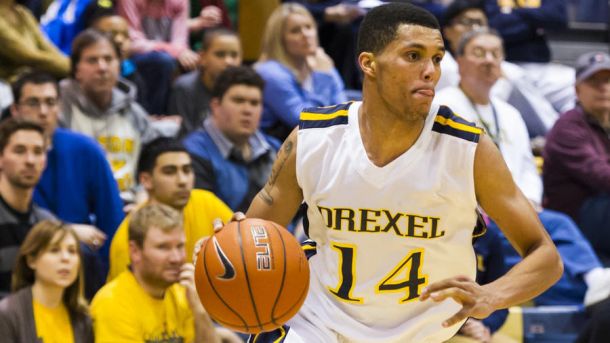 University of Drexel transfer shooting guard Damion Lee, who is regarded as the best player available in college basketball has five teams on his list: Maryland Terrapins, Arizona Wildcats, Louisville Cardinals, Gonzaga Bulldogs and the Marquette Golden Eagles.
Lee is taking his time in his recruitment as he wants to make things right and rightfully so. Arguably the biggest reason why Lee is looking to take his time is because he views himself as a future NBA player and it is hard to argue with that as Lee was the fifth leading scorer in the entire country during the 2014-2015 season averaging 21.4 points per game and also averaging an amazing amount minutes at 38.1 per game.
Out of all of the impressive numbers Lee had this past season, it was the low amount of turnovers at 1.9 per game that was the most impressive. When considering the fact that Lee is getting almost all of the attention from opposing defenses, that is hard to teach.
As Lee decides which school he wants to go to, according to the Baltimore Sun, Lee has some key factors which will dictate where he wants to go: Winning a national championship, playing time and exposure. For the Terps, they fit all three categories for Lee.
What Is On Lee's Mind Winning A National Championship:
With the additions of Robert Carter and Diamond Stone in the front court to go along with point guard Melo Trimble and small forward Jake Layman, Lee committing the Terps would arguably make the team ranked in the top three in both the AP poll and the coaches poll at worst.
With two talented big men in the paint and a point guard as well as a small forward who can create their own shots, it would give Lee the freedom to attack opposing defenses as every player can't be double teamed in such a scenario unless the defense wants to get burned.
How Will Playing Time Factor In With Lee:
In three seasons at Drexel, Lee averaged 32.6 minutes a game and one would believe those numbers would be cut down a bit with the amount of depth the Terps have with point guard Jaylen Brantley, shooting guard Dion Wiley and small forward Jared Nickens all coming off the bench. With minutes, ego's tend to get involved sometimes.
With Lee, there has never been any indication of such an ego as he wants to be part of a good team and Terrapins coach Mark Turgeon has really done a good job of getting his players to buy into his system and getting his players to communicate with one another on the floor. Players on the Terps roster enjoy playing with one another and Lee would be more than welcomed if he signs with the Terps.
According to the Baltimore Sun, Lee even went of his way to contact Trimble to see where things could go with the Terps.
"When I spoke to him, I had a feeling that he was going to come back, especially knowing him, I don't think he wanted to go out like that after getting hurt [against West Virginia]," Lee noted via BaltimoreSun.com."Knowing that the team has a pretty good chance of being very good for this upcoming season, why not continue to ride the wave and see where things can go? He said they needed me down there. I would take consideration of that."
Exposure And What That Means:
If Lee decides to sign with the Terps, he will get about as much exposure as he could possibly think of. The Baltimore/Washington metro area is the fourth largest in the country with only New York city, Los Angeles and Chicago being bigger.
Combine that with the fact that the BIG 10 has it's own television network, it provides an audience for every game on TV and gives NBA scouts more to think about. Not to mention playing games against nationally recognized teams such as the Michigan State Spartans, Wisconsin Badgers, Michigan Wolverines and the Ohio State Buckeyes gives another level of star status if Lee wanted decides to join the Terps.
Last but certainly not least, Lee went to high school at Calvert Hall where Terrapins great Juan Dixon attended as well. Playing close to home is certainly a plus. Even though nobody knows where Lee will ultimately go at the moment, the Terps have a great fighting chance of landing him.