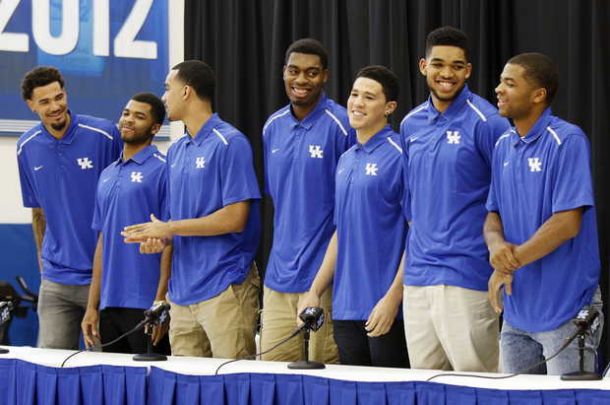 The Kentucky Wildcats finished short of their goal but still ended a historic season at 38-1. A mighty achievement that will be looked back at for years to come, and many comparisons will be made to this team and others in the future.
Kentucky was able to win that many games due to how absolutely stacked they were from top to bottom. Kentucky had backups for backups that would have started for any other program in the country.
But all that is over now. It's barely May and Kentucky fans are already looking forward to next year. But how good will next year be?
Kentucky lost seven of their top scorers to the NBA Draft this year; a list of players that have impacted this program from the span of only months to even three years. It's not just the basketball this time for the fans, it's the emotional ties.
Kentucky's list of NBA Draft entries are Andrew Harrison, Aaron Harrison, Devin Booker, Willie Cauley-Stein, Karl-Anthony Towns, Trey Lyles, and Dakari Johnson. This is the long list that pains fans to read every time it's mentioned.
So how does Kentucky recover? The last time Kentucky lost 5+ players the following year ended in an NIT first-round exit. This is not something Kentucky fans would be pleased with, even after a year like the one they just experienced.
Kentucky needs to make themselves worthy of that trophy once again; a job that will always be difficult as long as John Calipari is working for the Wildcats.
Kentucky's list of returnees includes Tyler Ulis, Marcus Lee, Alex Poythress, Dominique Hawkins, Derek Willis and walk-on EJ Floreal. Kentucky had a 16-man roster in their 38-1 season and lost 10 players including graduates. A major rebuild is needed to contend.
John Calipari thankfully has gotten a head start. He has managed to grab three top tier recruits to add to his 2016 campain.
Starting with Skal Labissiere; a highly talented big man who is already considered the #1 pick in the 2016 NBA Draft. To have that to your name before you even step on a college court is astonishing. A duo of shot blockers between him and Marcus Lee could become a fantastic frontcourt. But it won't keep offenses from scoring inside when foul trouble comes. Lee and Labissiere will need some help on this mission.
Isaiah Briscoe is the leader of the new crop of talented point guards Calipari seems to pull in every year. Briscoe sure is the cream of that crop because his moves are solid and he is an instinctive killer. He'll either be playing back up to Tyler Ulis or the other way around; additionally, Briscoe could make a switch to shooting guard considering Kentucky has no shooters and he can hit from deep consistently. Kentucky's point guard spot will easily be their best spot regardless.
Charles Matthews is a shooting guard who is the least touted recruit in Kentucky's 2016 class. Sound familiar? There was another shooting guard who was left off the "players to look for in 2015" list on Kentucky that goes by the name Devin Booker. Fans will hope Matthews will be half as good as Booker was; as long as he can hit from long range it should be good enough for this young man.
Players are nearing their announcement dates and many are continuing to choose anywhere else but Kentucky. With only a handful of recruits left considering the Wildcats it could get interesting as we reach May.
Malik Newman was a highly recruited player for Kentucky as he was a guard who could sink the long ball; something the Wildcats won't have much of next year. Newman recently committed to Mississippi State over Kentucky and others, disappointing fans.
Kentucky even had their hand at transfers. They went after big names like Damion Lee; the highest sought after transfer this offseason. Lee didn't even put Kentucky on his list of finalists and eventually committed to Louisville. The Wildcats fell short in the transfer category.
John Calipari continues to recruit big names such as Jaylen Brown, Cheik Diallo, Brandon Ingram and Thon Maker. The Wildcats need at least one of these names to make themselves a legit contender.
Jaylen Brown is the nation's #2 recruit and seems to favor UCLA. Kentucky only has Poythress for their small forward spot and adding Brown would give them fantastic depth and talent. He's not a need-to-get guy; but he's a want-to-get guy.
Cheik Diallo is probably the most insane big man in the class of 2016. He put on a show in the McDonald All American game and was the MVP. His favorite right now is Kansas and he has stated he will wait until after his high school season to make a decision. His decision will likely be soon and Diallo is a needed player as Kentucky is not very big on the inside as of right now.
Brandon Ingram is the backup plan of sorts if Brown commits elsewhere. He's another talented small forward that puts up points and is a fantastic passer. His defense also shows while on-ball and is versatile due to his size. He is currently favoring Duke and could likely commit there soon.
Thon Maker recently cut his list to two teams; and he made it interesting. It comes down to Kentucky and Indiana for Maker; a player who reclassified to 2015 and will only be eligible for late-2015 action. Even though he won't be able to play at the beginning of the year he would be a fantastic pick-up for the Wildcats; luckily, he's favoring Kentucky.
One of these names has to end up wearing blue and white for Kentucky to have success. If the Wildcats are able to pick up multiple names it only adds to what they can do in a year of touch-ups.
As this fan base always says: it's not time for rebuilding in the bluegrass.
They've got to find a way to reload.