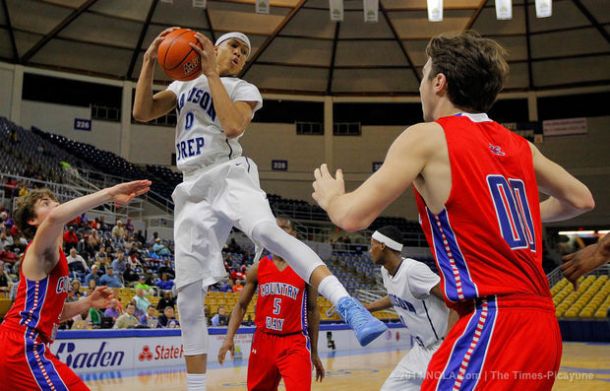 LSU basketball is in a position for a breakout season. Yes, you read that right. We are talking about LSU basketball, not Death Valley, Les Miles and the heralded football program. The Louisiana State Tigers, led by coach Johnny Jones, will enter the preseason ranked in the top 25, something the fans of LSU aren't as accustomed to seeing.
LSU received a commitment from a local talent today in Brandon Sampson, who had originally committed to St. Johns and coach Steve Lavin. Lavin and St. Johns mutually agreed to part ways after the season, and Sampson decided to reopen his recruitment and eventually decided he would attend school at home in Baton Rouge. Sampson joins the number one recruit in the nation, Ben Simmons, and five-star shooting guard Antonio Blakeney.
Some have crowned the Tigers with the top recruiting class, although SEC counterpart Kentucky still ranks on top of the recruiting boards by others. John Calipari lost his top seven scorers from last season, a season in which he saw perfection fall short in the Final Four at the hands of the Wisconsin Badgers. Calipari will be sure to reload, while bringing back Tyler Ulis and Marcus Lee to go along with another highly touted incoming class. Alex Poythres, who tore his ACL early in the season, has yet to decide if he will return for his senior season with the Wildcats.
The Tigers will be Kentucky's main competition next season. LSU has something to build off of from last season after playing Kentucky tough at home while competing in the conference and making the NCAA tournament as a nine seed before eventually falling to NC State in the first round. Two Tiger big men have already declared for the draft, Jarrell Martin and Jordan Mickey. Had those two stuck around campus another year, the Tigers may have cracked the preseason top five. The Tigers will also add a four-star transfer from Arizona in Craig Victor. The perimeter play will be secured for the Tigers with this class, something that was a struggle for coach Jones last season. Simmons' godfather is an assistant coach at LSU and played professional basketball with Simmons' father. The commitment from Simmons helped the Tigers land his former AAU teammates in Blakeney and Sampson, but it didn't come easy. This will provide some familiarity for the freshman as they step into the college basketball ranks.
SEC basketball should continue to improve with the signings from LSU, the consistency of Kentucky, Avery Johnson being hired at Alabama and Florida working to hire a new big name coach and get back to the NCAA tournament.