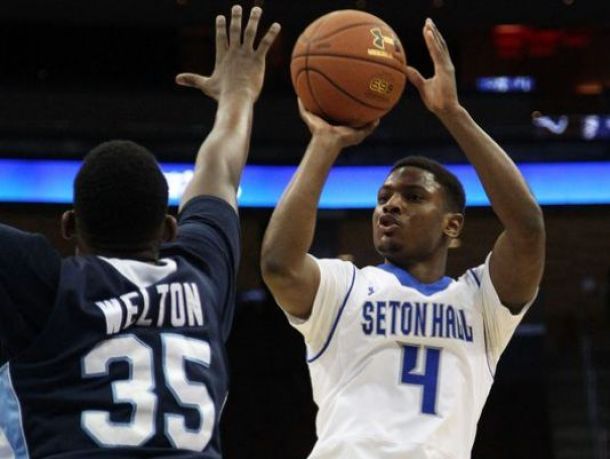 Yesterday Seton Hall's leading scorer from this past season, Sterling Gibbs, announced he is transferring. The list that Gibbs will have to choose from with be lengthy and full of top programs. He will be eligible to play for whatever school he chooses right away because he is graduating from Seton Hall this spring.
Gibbs was the go-to player for the Pirates this season. The 6' 2" guard averaged 16.3 points and 3.8 assists while shooting 43.6 percent from three-point land.
Schools that have been mentioned in pursuing Gibbs are Ohio State and UConn, but other schools such as Maryland, Gonzaga, and Marquette may also pursue him as they did Damion Lee before he committed to Lousiville. Maryland could make a strong case for Gibbs to choose them, as they already have one of the best point guards in the country in Melo Trimble and five-star freshman Diamond Stone. The Terps are only missing a shooting guard who can help spread the floor.
After Seton Hall lost to Marquette in the Big East Tournament, Gibbs told reporter that he would definitely return for his senior season. There were a number of incidents that could be the reason for his decision, one being during a February loss to Georgetown when he and freshman Isaiah Whitehead had to be separated by a coach as they were arguing.
For Seton Hall, this is a huge loss as they just started seeing improvement with head coach Kevin Williard. Whoever is lucky enough to convince Gibbs to attend their school, will boost their team to another level.