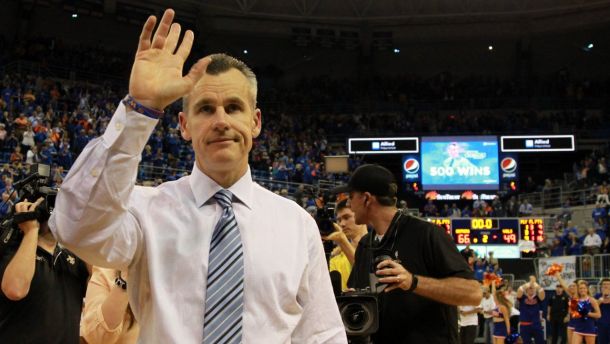 Well, it's official. The 19-year Gators coach Billy Donovan is off to the pro level. Donovan is heading to the Oklahoma City Thunder to coach Kevin Durant and Russell Westbrook. Donovan won six SEC regular-season titles, made four final fours, and captured two national championships in his 19 years at Florida. That being said, Florida can't afford to miss with Donovan's replacement.
With Donovan's departure still very recent, here are the top five names who could wind up replacing him in Gainesville.
1. Archie Miller, Dayton
Archie Miller seems to be number one on everybody's list, and he deserves to be there. Miller is a young coach, and just recently accomplished an improbable Elite Eight run in 2014. Miller is coming off off a season in which he won two NCAA Tournament games with just six scholarship players and nobody taller than 6'6. Miller not only proved that he can handle the increased expectations that resulted from the previous season but also that he can push his players to the limits of their talent. Miller recently re-upped with Dayton on a contract extension through the 2021-22 season, but it's unclear whether his buyout would be too much for Florida to pay.
2. Mick Cronin, Cincinnati
Cronin has done a phenominal job building a basketball culture in a Cincinnati program that had almost no talent when he arrived in 2006. Cronin was able to accomplish this because he excels at getting the best of his players. He helped turn Sean Kilpatrick from a solid college player to an NBA player.Cincinnati is one of only 11 programs that have reached the NCAA tournament in each of the last five seasons. However, the most recent of Cincinnati's NCAA trips was mostly the work of Larry Davis, who took over the program after Cronin became ill and missed the remainder of the season. Cronin seems like he is a good fit in Cincinnati, but there are some considerations that may make Florida a better option for him.
3. Chris Mack, Xavier
When it comes to accomplishments, Chris Mack is no different than the other coaches that have been mentioned. Mack has led Xavier to the Sweet 16 three times in six seasons, and led the Musketeers from the Atlantic 10 to the Big East without a loosing season. Xavier is not a program that just wins with any coach. They recognized Mack was a great coach and they hired him. But Mack has a good thing at Xavier and it is going to take a lot to convince him to leave.
4. Steve Prohm, Murray State
Prohm has recently earned respect in the college coaching ranks, and he's proven that he has a good eye for recruiting. However, the Gators may not want to take a chance on him.Prohm has made only one NCAA tournament in the last four seasons. Murray State dissappointingly missed out on an NCAA tournament bid last year despite a 29-6 record. Prohm and Murray State recently agreed to a contract extension through 2020 worth 500,000 a year, Florida will most likely not have a problem buying that out.
5. Richard Pitino, Minnesota
Pitino would be a tough sell given the dissappointing season the Gophers had in 2014-2015, but the 32-year-old has experience at Florida and has experienced more positives than negatives. Pitino has many great qualities and worked formative years with Rick Pitino. However, Florida will most likely want to go with someone that has atleast one NCAA appearance.