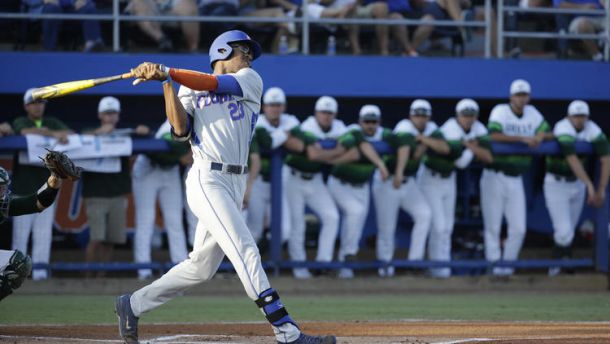 Florida came into Sunday Night's finale of the Gainesville Regional knowing that it just needed to win one of two games in order to make it to the Super Regionals. They wasted no time however as they dispatched the Florida Atlantic Owls, who had lost to the South Florida Bulls in the Regional opener, to give them their second loss in the double elimination tournament.
Florida started by putting Freshman Alex Faedo on the mound and then Florida Atlantic took advantage early as they got their run in the bottom of the first. Billy Endris tripled to left centerfield with one out and then scored two batters later when Ricky Santiago hit a single to bring him home, but that would be all for the Owls in this game.
Faedo only gave up one more hit over the first six innings of the game and struck out 6 Owls to get the win in this contest. He was followed in relief by Bobby Poyner who struck out 4 batters over two innings and then Taylor Lewis would get the save.
As far as at the plate though, it was not an easy day for the Gators. Josh Tobias led off the top of the fourth with a double and scored on the next play as there was an error on Owls second baseman, Stephen Kerr. That tied the game up at 1. Richie Martin would do his damage in the top of the sixth inning drawing a walk and advancing to second via a Tobias single and then crossing the plate when JJ Schwarz hit a single.
That was all the Gators needed in this one as they only gave up a total of 3 runs across 27 innings at their home stadium. They are awaiting the winner of the Tallahassee Regional, as Florida State has two chances to eliminate College of Charleston. Their first game is Monday, June 1 at 2 PM ET.