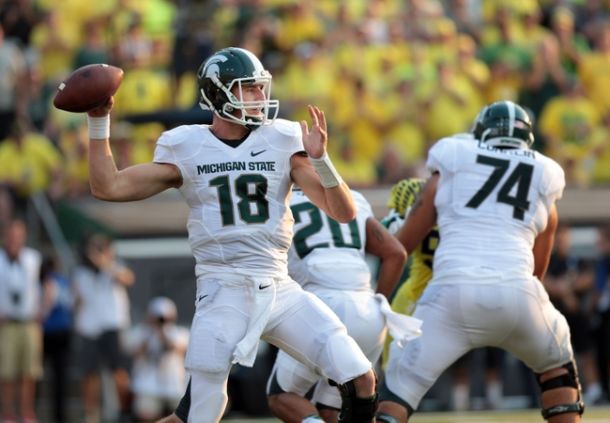 7:50 PM EST: Thank you all so much for joining VAVEL USA's coverage of this classic game, which everyone will be talking about for the next 50 years across the state of Michigan. It was a blast to cover this once in a lifetime game, and we hope you all enjoyed the VAVEL coverage tonight, brought to you by Chris Robbins. We hope to see you again later tonight, and beyond with more VAVEL coverage of college football. Have a nice rest of your day and weekend!
7:40 PM EST: Michigan State proved they can beat a top team. Even if it was in one of the oddest most creative ways a team has ever won a football game. Both these teams should have a good chance of making a major bowl, and it keeps Michigan State's top four playoff hopes alive. The Spartans have another likely fun game - Indiana next week, who combined with Rutgers put up over 50 points each against each other. The Spartans have their game - Ohio State to likely determine the Conference Champs and who moves into the playoffs on November 21st. Michigan could still have a small chance at the playoff if they win out, including - the Buckeyes on November 28th.
7:30 PM EST: One piece of good news for Michigan is that it proved they could hang with the Spartans, and lead them for most of the game. The argue could be made that the last time Michigan played that well - Michigan State was before Dantonio's first season in East Lansing. Michigan didn't turn the ball over until the fumbled snap by the Punter, which was the only turnover in the game that wasn't one of Michigan State's four turnover on downs. The Wolverines have now dropped to 5-2, with both their losses coming against Top 10 teams. Their division record moved to 2-1.
7:25 PM EST: That was one of the most entertaining endings to a game that anyone could have imagined going in... Nobody could have predicted a fumbled snap by one of the best net punters in the country would have given MSU the victory. The Spartans were extremely lucky to come out of Ann Arbor with a victory. What a crazy game. 10 replay reviews, a last second fumbled punt snap, two touchdowns from Michigan's fullback Houma and a 74 and 3/4 yard reception setting up a touchdown by MSU's Fullback Pendleton later, the greatest Michigan Wolverines vs. Michigan State Spartans game ever is over. That is easily the biggest win for the Spartans this season, keeping them undefeated at 7-0 overall and 3-0 in the division.
7:22 PM EST: CLEARLY A TOUCHDOWN RETURN BY MICHIGAN STATE!!! WOW! That was the greatest ending to a game ever! That easily rivals the Auburn kick return touchdown! Unbelievable. Michigan State needed a Miracle to win with 10 seconds left, and they got one. What an ending. What an ending.
7:20 PM EST: UNBELIEVEABLE!!! UNBELIEVEABLE!!! WHAT IN THE WORLD JUST HAPPENED?! MICHIGAN's PUNTER FUMBLES THE SNAP WITH TEN SECONDS LEFT AND MSU RETURNS IT FOR A TOUCHDOWN WITH ZERO SECONDS LEFT!!!
7:19 PM EST: Stopped short! Great play by Michigan State's defense. Ten seconds to go, fourth and two for the Wolverines. Will Harbaugh go for it? Will he punt it?
7:16 PM EST: A run by Smith on first down sets up 2nd and 6 with 1:42 left and no timeouts left for Michigan State. Three yard rush by Smith, setting up a big 3rd down. A first would end the game, as there is :56 left on the clock, as Harbaugh calls a timeout. 3rd and three for the Wolverines.
7:15 PM EST: THREE MAN RUSH WORKS! Henry gets into the backfield, and it's knocked down by Thomas and Stribling who were double teaming Kings! Wow.
7:13 PM EST: Michigan has had an effective three man rush this drive... Cook likely looking for Burbridge on fourth and nineteen after King's struggles as MSU called a timeout.
7:11 PM EST: Incomplete on 2nd and 19. Third and nineteen on the Michigan 45... Lewis knocks it away from Burbridge!!! Wow! HUGE fourth down here!
7:10 PM EST: Henry with a huge sack for Michigan!!! Puts Michigan State on the Michigan 45 as the Spartans call a timeout. Each time now has two left.
7:08 PM EST: Holmes with a short one yard Spartan run, as Cook completes a pass to Price for a 3rd and one... Holmes with the first down rush. Clock now running down from 2:30!
7:07 PM EST: Great blitz call on a first and five following a Michigan penalty forcing a second and fifteen. Burbridge with a huge catch on a nice throw by Cook! First down Spartans at their 45!
7:04 PM EST: Rudock pass goes off Darboh back to the quarterback about ten yards back on a hard bullet from the QB. 49 yard punt by Michigan, giving the ball to the Spartans on the 30.
7:02 PM EST: Harbaugh going with the backup running back for a one yard gain. Rudock has an open Jehu Chesson deep in Spartan territory... Overthrown! Had Chesson open deep, but couldn't hit him! Next play the Spartans are called offsides setting up 3rd and four.
7:00 PM EST: Kings with a drop! Huge drop on third down by the Spartan Reciever. MSU punts it into the back of the end zone, as Michigan gets the ball at their 20.
7:00 PM EST: Connor Cook... Caught deep by Burbridge! Beat Jordan Lewis this time for a deep first down at the 40! The Tight End couldn't make the catch inside the ten, however, giving the Spartans a second down. Michigan calls the blitz, which forces a batted Connor Cook pass to set up third down.
6:55 PM EST: Second and thirteen, Michigan passes to Butt to set up 3rd and nine... Chesson drops the third down pass deep! Michigan forced to punt, and it's MSU ball with 7:45 left to go in the game, down by 2 starting the drive at their own 33 yard line.
6:52 PM EST: Peppers fumbles the squib kick, Chesson tries to recover but can't and Michigan State might get it back... Nope, Michigan eventually recovers the ball, but Riley Bullough makes a huge tackle for a loss on Smith. Only his second loss of yards on the day.
6:49 PM EST: Called down inside the half yard line, meaning the touchdown goes to LJ Scott instead, who crosses the Goalline without getting tackled. Still, a very impressive play by Pendleton to set the play up, however. Only 29 seconds to score on that drive.
6:46 PM EST: Ball gets returned to the 25, by Michigan State. Cook dumps it off to fullback Pendleton... HES GOING HES GOING GONE! 75 yard run on a reception by the fullback Pendleton on his first reception of the year! Second touch of the year! Wow, great read by Cook and great playcall by Dantonio! The play is under review, for the ninth time today, however.
6:41 PM EST: Michigan goes to a five wide spread formation, as Rudock dumps the ball off on a short pass to Peppers. Allen on to kick a 38 yarder. The field goal is good, as it's now a nine point lead for the Wolverines with 9:25 to go. Allen now 6 of last 6 on field goal attempts.
6:39 PM EST: Next play was batted down after a poor throw on the run by Rudock. Michigan gets MSU to jump, but the Wolverines call a time out with 10:10 to go in the game.
6:38 PM EST: Peppers gets a short return on the punt, as a flag gets picked up for block in the back. Once again, announcers agree with refs support of Michigan, who runs the ball on first down for a gain of one.
6:35 PM EST: While ESPN was on commercial, the referees changed the penalty to Michigan State, meaning they get the ball on the four. Michigan State runs the ball on first down for no gain, throws it on second for a gain of seven, and an incompletion on third down, leading to fourth and three.
6:30 PM EST: Referees announce the no catch call stands. Punter comes out with the ball at the Michigan 44. Ball marked down at the 8 yard line, however there was a fifteen yard unnecessary roughness call on Michigan, meaning they will start at the 23.
6:27 PM EST: Short run for Michigan on first down, and then Calhoun comes up with a big stop on second down to force a third and long for Michigan. Rudock then throws a grass pass to Butt, who might have caught that. Another replay review in this game. As expected, ESPN saying its a catch, but referees yet to say anything in favor of overturning the call.
6:24 PM EST: Chesson in single coverage under thrown by Rudock on first down. Smith with a rush stopped for a loss on second and ten, as Rudock tries to throw it deep to Amara Darboh on third down... Caught! Huge gain puts the Wolverines in Spartans territory!
6:21 PM EST: Lewis makes another good defensive play on Burbridge, forcing second and ten. Next play is a pass batted down on the line by Michigan. Wolverines bring the blitz on third down... Connor Cook throws the ball way outside of Burbrige's reach, as MSU goes for it on fourth. Cook with the throw... Dropped by Kings on a slant! Perfect throw by Cook, but Kings couldn't handle it! Michigan band extremely peppy after the turnover on downs. Third turnover on downs on the day for the Spartans.
6:17 PM EST: The ESPN Broadcasters are either really not happy with the refereeing or are biased towards Michigan as this is they have been complaining about almost every flag against Michigan so far this game. Really interesting broadcasting. Here at VAVEL, we try our best to be unbiased in every possible scenario! Sean McDonaugh and Chris Spielman are the broadcasting crew for ESPN tonight with assistance from Todd McShay.
6:12 PM EST: Michigan State knees the kickoff, giving them the ball at the 20. Williams gets the first down carry gaining three. Kings with a nice catch on the outside in man, getting to the 46 for a first down. Peppers then chases out Shelton who makes the catch for a gain of 5. After another run by Williams, the Spartans give it to him again on third down, but he's stopped behind the line! A flag is thrown late for unnecessary roughness on Michigan for jumping on top of the pile after the whistle, giving the Spartans a free first down!
6:07 PM EST: Michigan commits a holding penalty on a first down play action pass, resulting in first and goal from the 18. Good blocking by Michigan offensive line, but Calhoun chases Rudock once he runs out of the pocket, forcing him to throw it away not far from the wide receiver. Next pass play is batted down on the line. 3rd and goal on the 18 now for Michigan. Rudock finds Chesson wide open, getting down to the three. Harbaugh electing to play it safe and kick a field goal. Kick is right down the middle, and it's now 20-14 Michigan after the Allen field goal.
6:05 PM EST: Rudock on a boot leg to Chesson again, who has open room to run and gains nine on first down on a pass play. Smith run called on second and one results in a first down for Michigan at the MSU eight yard line.
6:02 PM EST: Beatiful pass by Jake Rudock to Amara Darboh! Great lob pass for a huge gain! Michigan now down in Spartans territory at the 32. Run on first down for no gain, but Michigan State commits a pass interference penalty preventing a big catch from Chesson out of the backfield at the 20 yard line. 1st and 10 Michigan
6:00 PM EST: Great return by Michigan of over 30 yards. Loss of one on the first play of the drive however, setting up a second down and 11. Thomas with a HUGE hit on Smith on a two yard gain and it's now 3rd and 9.
5:57 PM EST: A beautiful throw by Connor Cook to Kings for a 30 yard touchdown! It's now down to a 17-14 Michigan lead. Michigan State is back in it. This looks like another classic Michigan-Michigan State rivalry game! Great to see a competitive battle between these two historic teams.
5:55 PM EST: Pass was overturned, and ruled complete! Great sideline catch by Skelton. Michigan State first down at the 33 now, as a run on first down puts them in field goal range.
5:50 PM EST: First play of Michigan State's drive is a short run for a gain of 3. Michigan State gets another Cook-Burbridge connection, and first down to the 41. Good throw by Cook on the play. A catch by Michigan State on the sideline ruled incomplete, but it looked like a catch on replay. Very close call, good to see it reviewed at a big point in the game. Potential catch was by Skelton.
5:42 PM EST: Play is officially overturned, no touchdown for Smith. Next play goes right to Smith, where the opposite happens. His body crosses the line, but the ball is held back. 3rd and goal after the review overturns another Michigan Touchdown. Houma appears to be given the touchdown signal again, but yet ANOTHER review appears to show he was stopped short once again. This might be the third straight time a referee has signaled touchdown but correctly overturned it for no touchdown. The touchdown call does stand however, as the whistle was blown on the play very late, allowing the Michigan Fullback Sione Houma to score his and Michigan's second touchdown of the game! 17-7 Michigan as the extra point by Allen is good.
5:38 PM EST: Chesson commits a false start call, but Michigan sends out Peppers who gets a huge run! 28 yards for Peppers on the run on the offensive side of the ball! Smith gets a three yard score, but it looks to be coming back just short of the end zone as the knee appeared to be down before the ball crossed the line. Crowd reacts to the replay being shown in the stadium, which is filled with over 100,000 people for tonight's game.
5:35 PM EST: Smith gets back to back carries earning eight and two for a first down. Announcers seem to be biased towards Michigan talking up Smith's ability to not lose yards, as well as the hit to the head call not long ago.
5:32 PM EST: Ross gets to come back in for Michigan if Harbaugh puts him in. First play for MSU gains two, second play was an incomplete pass on a screen behind the line. Third down play was a deep pass to Burbridge who beat Jordan Lewis but couldn't hold onto the ball. Michigan State sends the punter out to kick... But it's a fake punt, run! Michigan State can't get to the first down marker after a nice hit by the Michigan defender.
5:29 PM EST: Smith gets it inside one yard from the first down marker, and the five to the fullback results in a gain of less than a yard. Offense taken off the field in favor of field position and a strong defense. Flips the field, giving MSU the ball at the 29.
5:27 PM EST: Connor Cook was 8-16 in the first half, including 6-10 to Burbridge. Michigan starts with the football at the 24, and Isaac gets stuffed for a gain of one on the first play.
5:15 PM EST: With it being halftime, here is an update on the out of town scoreboard: Alabama is leading Texas A&M 28-13 and Oklahoma is beating Kansas State 35-0 in current action. Earlier today, Memphis upset Ole Miss 37-24, Iowa beat Northwestern 40-10 in Big Ten action to remain undefeated, handing Northwestern their second loss of the season after Michigan beat them last week. Toledo, Florida State and Baylor were the other top 25 teams who have played today, all earning big wins, including a 63-20 beat down of Eastern Michigan by the Toledo Rockets. Among good games later tonight, Florida - LSU in a top ten battle and another Big Ten game with Ohio State - Penn State for the prime time game at eight oh clock eastern tonight. Ohio State is heavily favored, but Penn State with a good game - a rival might have a bigger chance than some think.
5:05 PM EST: Michigan State calls a run play to run down the clock, and despite having the ball for 19 minutes compared to Michigan's 11, they still are down by three at the half. Good second quarter for both squads, but Michigan takes the lead into the locker room.
5:00 PM EST: Jabril Peppers remains on the field, and Michigan State calls another timeout! Three straight timeouts by Michigan, and two by Michigan State. Peppers lined up at halfback, but Michigan State gets a great blitz on the Tight End throw on the screen call. The punt goes out of bounds inside the ten and 1:10 left to go in the half. Michigan State playing no huddle with less than a minute left, and a completion by Cook is called back on offensive pass interference.
4:55 PM EST: Jabril Peppers gets a nice 35 yard return following a nice block by Thomas. Smith stuffed at the line on the first play though, gaining nothing. Now inside two minutes left in the half, and after a completion by Rudock it's 3rd and seven. Michigan calls their final time out with 1:25 left to play in the half. Michigan State then calls a time out following Peppers being on the field on offense.
4:52 PM EST: First time that Michigan has been on defense with two of their starting linebackers out. A nice play gains three yards, followed by a first down throw by Connor Cook of nine yards. Next play is a one yard run by Williams. Pass on the outside to Williams dropped, forcing a third and nine for the Spartans. Wormley gets a huge third down sack, however, forcing MSU to punt on third down. Great blitz call by Harbaugh on third down and long.
4:49 PM EST: Jake Rudock throws the ball away on third down, before good coverage from MSU's number 33 forces Michigan kicker to attempt a 38 yard field goal. The field goal is made by Allen, and the Wolverines take a 10-7 lead.
4:48 PM EST: Michigan calls another time out following the run to discuss play calling and game management. 6 minutes left in the half.
4:45 PM EST: Jabril Peppers with another nice return, a common trend - MSU this season, for a 49 yard return getting the Wolverines to Spartan territory. Rudock then completes the pass to Jehu Chesson on a flying catch into single coverage to the 25 for a 23 yard gain. Deveon Smith with a four yard run following the nice catch for a 2nd and six.
4:40 PM EST: LJ Scott rushes it in for the score from about 15 or so yards out, just two plays after the ejection of Bolden. 7-6, but MSU hits the extra point courtesy of Geiger for it to be 7-7 tied.
4:34 PM EST: Correction by ESPN, the ball was moved forward to the Michigan 46 during commercial break after it was determined to be touched by a Michigan player. The Spartans then get a rush for one yard from Scott, and Connor Cook gets slammed in the head by a Michigan player, earning the Wolverines an illegal hit to the head. Appeared to be pushed by Jack Conklin twice, forcing him into Cook. Of course, Michigan player could have avoided Conklin blocking him altogether, despite it being a block in the back on the play. UofM fans jeering very heavily as the defender Joe Bolden disqualified following a targeting of the head call stands. Bolden firing up the crowd as he heads off, and the crowd goes wild in response. ESPN not sounding very happy about Conklin block being missed by the referees. Burbridge gets a first down following the madness to get the game back into action.
4:30 PM EST: Smith with a nice run, gaining five to start the drive for Michigan. Amara Darboh however doesn't have the same luck, however, getting dropped for a loss of five. Calhoun then sacks Rudock on third down and nine to force an immediate three and out. Punt rolls to a stop at the fourty three yard line, and the Spartans take over with good field position.
4:24 PM EST: RJ Shelton with a nice return of 29 yards, and a seven yard rush starts off MSU's first drive of the second quarter. Michigan's line fights back on the next play however, stopping the MSU back at the line. Royce Jenkins-Stone with a good tackle on Burbridge behind the line of scrimmage, forcing a fourth down put by MSU, as Jabril Peppers has no room to run on the return.
4:17 PM EST: Michigan QB Jake Rudock completes his first pass to a WR, Jehu Chesson for a first down, and Deveon Smith gets the ball to the MSU three on the next play. The Michigan Fullback Houma gets a touchdown, currently under review. Ruling stands, giving Michigan a 6-0 lead. The PAT is good from Allen, and it's 7-0 Wolverines!
4:15 PM EST: UofM gets to start the second quarter in good field position when the commercial period is over, lots of commercials lately. Game finally resumes action six minutes later, and Ty Isaac gets a three yard gain,
4:10 PM EST: Michigan QB Rudock completes a pass to his TE Williams, to end the first quarter 0-0! Great defensive game so far, but quite boring for the average fan hoping for a high scoring game.
4:05 PM EST: Harbaugh calls a fullback trap, and he gets all the way to the fourty five! Calhoun forces Rudock to hurry his throw, however, and he can't complete the pass on the ensuing first down. Michigan gets one yard on second down, resulting in third and nine, when Michigan calls a timeout with ten seconds to go in the first quarter.
4:00 PM EST: Burbridge gets nine on a reverse, and then Michigan State gets a first down the next play later. LJ Scott tackled by Henry at the Michigan 28 for a second and eight, but Cook gets his pass batted down and cant get MSU a first down, forcing them to face another third down. The third down pass is also batted down by Jordan Lewis of Michigan and MSU faces a fourth down! The pass is thrown out of bounds by Cook, and it's Michigan ball after MSU can not convert on fourth down.
3:58 PM EST: Cook on a short pass to Burbridge this time, and trash talk ensues. On the next play, the Spartan throws an INT, but defensive holding is called, giving the ball back to MSU for a first down.
3:52 PM EST: Aaron Burbridge again! Cook to Burbridge looking strong tonight for Michigan State, however you can't say the same abut the run game which is stopped once again on the first down. Cook then connects with RJ Shelton and gets another first down. Cook 4/7 for 77 yards tonight so far through 9 minutes. Michigan State elects to run once again. On first down to very little success. Williams barely makes it back to the line on second down and a chop block penalty on MSU pushes them back even more.
3:50 PM EST: MSU Offensive lineman hurt, Cody Keiler. After a terrible throw from Cook on a play action, it moves to third down, where Jordan Lewis makes a great play on a Cook-Burbridge pass.
3:48 PM EST: Another nice play by Burbridge, who off a Cook through gets Michigan State out of their end zone shadow, and after two more run stops by Michigan's defensive front seven forces a third down. The Wolverines then commit a too many men penalty on defense, giving MSU a free first down.
3:44 PM EST: Riley Bullough with a big sack for Michigan State! 4th down for the Wolverines, who get a fantastic bounce, leading to an 80 yard punt for the Wolvernes pinning the Spartans inside the one yard line!
3:41 PM EST: Michigan State punt goes out inside the 30 and Michigan commits a false start penalty. Deveon Smith then talked for a loss on a pitch play, and again on an inside run.
3:39 PM EST: Connor Cook with a great throw, earning a first down to Aaron Burbridge. Connor Cook stumbles on second down, resulting in a third down and long. It is thrown away on third down, forcing a fourth down.
3:37 PM EST: Michigan State receives the first half kickoff for a touchback, and the first pass play is incomplete. The next play, a run, loses yards.
3:35 PM EST: Very well done intro by ESPN with an interesting stat: team to lead the rushing game has done extremely well in the overall series. Should be fun to watch with two good passing teams tonight.
3:30 PM EST: The moment everyone across the state of Michigan has been waiting for since the beginning of college football season is upon us! Both analysts on ESPN have Michigan State winning in a very low scoring game. Also adding what many have been hoping for, for this game to be relevant in NCAA Football again. Michigan and Michigan State enter, with Michigan State getting heavily booed after entering through same tunnel.
3:25 PM EST: Five minutes left! Could make the argument that this might be the biggest game of the year for both these two teams. Whoever wins will have a big game - Ohio State as well later on this season. Harbaugh playing his first game - the Spartans at home looks to be an advantage for Harbaugh, but it will certainly be interesting to see who adds one big win to their resume!
3:05 PM EST: Hi everyone! We have a little less than a half hour left until kickoff! It should be a very intense and emotional game, especially after the lead up to this game. Should be very heated after the vandalism of the Magic Johnson statue at Michigan State earlier this week.
Michigan's offense is lead by quarterback Jake Rudock, who has improved over the course of the season. While he still only has five touchdowns to six interceptions, his completion percentage has increased to a comfortable 62 percent, with a quarterback rating of 120 this year. He has 1,135 yards passing, to go along with 85 rushing yards and three rushing touchdowns. He could not put up numbers of this type without the receiving talent he has. Lead mostly by Amara Darboh (the team leader with 280 yards on 25 catches and 2 TD's), Jake Butt, (who has 275 on 22 catches and a touchdown) and Jehu Chesson, who has added 130 yards on 13 catches, Michigan has an incredibly deep receiving core. On the ground, Michigan has employed a multi-back system, with four running backs as well as Rudock each getting over 100 yards. Additionally, six running backs have carried the ball. De'veon Smith has had the bulk of the carries, running with the ball 75 times for 390 yards, and four touchdowns. However, both Smith and Drake Johnson, another one of Michigan's leading backs this year, are likely both out for today's game due to injury.
The Michigan State defense may not have as many big names as it has had in recent years, such as Darqueze Dennard, Trae Waynes and Kurtis Drummond among others, yet they still have a reliable defense. Only ranked 56th (mostly due to allowing 2300 yards through six games), 5.5 yards per play and 15 TD's, Michigan State has allowed 21 points or more every game this season except for Central Michigan, which was a 30-10 victory. Michigan State's offense has had to pick up the slack so far, scoring over 30 points in every game except for Purdue, a game which was won 24-21. Michigan State's biggest win this year came against a now unranked Oregon squad, who has struggled mightily this year without top quarterback Marcus Mariota.
The Spartans are lead by quarterback Connor Cook, a projected top ten NFL Draft pick this season. He currently has a 60% completion percentage, along with 1300 yards, 12 TD's, 2 INT's and a quarterback rating of 151, which has risen every year at Michigan State. The Spartans, who are known for producing great college running backs in recent years like Javon Ringer, Leveon Bell and Jeremy Langford, have elected to go primarily with a two back system this year with Madre London (95 carries, 400 yards and 3 TD's) and freshman LJ Scott (70 carries, 420 yards and 6 TD's) sharing the load. It has been working out for Michigan State this year. London, however, went down with an ankle injury last week, forcing Dantonio to activate Delton Williams from being redshirted. Gerald Holmes has also been used as a running back this season, but it looks like most of the carrying duties will belong to LJ Scott against Michigan this week.
Michigan State has been a top program consistently every year since Mark Dantonio took over the reigns as Michigan State's Head Coach in 2006 from Cincinatti. His record against the University of Michigan is 6-2, and he has lead his teams to a .723 win percentage and a bowl game every year since he started his stint at Michigan State. Dantonio hopes to defeat Harbaugh for the first time in what should be a very defensive heavy matchup. Michigan State has been known for their strong defense for many years, while Michigan's defense has been flawless the last three straight weeks, setting up most likely what Dantonio would be hoping for: a battle of top defenses.
Head Coach Jim Harbaugh has done fabulous work with a Michigan squad that has struggled since the employment of Rich Rodriguez, and has taken Michigan Wolverines football back to relevancy this year. Many critics of the hiring and the team have said that it was going to take some time, possibly a few years before Michigan could restore themselves amongst the top college football programs of the millennium. Harbaugh has done this much faster than many anticipated, despite it being only his first year back at Michigan. Harbaugh's first game as a head coach against Michigan State should be highly entertaining with a high potential for drama in a meaningful rivalry game.
The Michigan Wolverines and Michigan State Spartans are headed in vastly different directions as of late. While Michigan has won their last three games by shutting teams out, including a huge win over Top 15 ranked Northwestern 38-0 last Saturday, Michigan State is coming off a combined 10 point victory margin over the last two weeks at home against the untangled Purdue Boilermakers and away against the unranked Rutgers Scarlet Knights. Michigan State still has an unbeaten record, while Michigan's only loss this year was to a Top 5 Utah Utes team during the first week of the season.