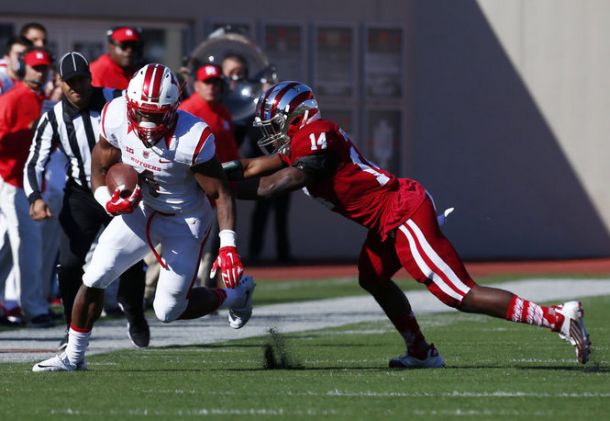 BLOOMINGTON, Ind. -- Kyle Federico nailed a 26-yard field goal as time expired to complete the Rutgers Scarlet Knights' school record-tying comeback and slice the Indiana Hoosiers with a 55-52 triumph on Saturday evening.
Federico's game-winner came following a 25-point comeback by the Scarlet Knights and a 59-yard drive with under five minutes remaining. Running back Robert Martin and wideout Carlton Agudosi made some key plays on Rutgers' trudge down to Indy's nine.
Indiana held a 52-27 lead ten minutes into the third quarter following a 66-yard touchdown scamper by Devine Redding. It would be the last score of the day for the unfortunate Hoosiers.
Following Redding's rushing TD in the third, the Knights scored 28 unanswered, starting with Leonte Carroo's 43-yard score on the subsequent drive.
Rutgers shut down the Hoosiers' offense on the next series, and after a bad snap, Kemoko Turay was able to recover the ball and make his way to pay dirt for a 26-yard scoop-and-score.
The Hoosiers turned it over once again on the next series, as Isaiah Wharton picked off Nate Sudfeld at Rutgers' 32 to give possession back to the away side. Martin made a few key runs and Agudosi caught a 40-yarder to bring the Knights to Indiana's three, from where Martin powered it in on first attempt.
Anthony Cioffi picked off Sudfeld on the first play of Indiana's next drive, and this time Paul James was the one to cash in the turnover with a 40-yard scurry of his own to tie it up just past the halfway mark of the fourth.
Up until Carroo's turning-point third touchdown of the game, Indiana had successfully scored seven points on their first four drives of the second half after Rutgers had led 27-24 at halftime.
After the game's opening TD, a 24-yard Robert Martin run, was scored by Rutgers, Indiana scored 17 unanswered behind some big plays through the air orchestrated by Sudfeld. Carroo scored twice and Martin once more for Rutgers as the Knights took charge by the end of the half.
Martin and Carroo each topped the century mark in their respective areas and each notched three touchdowns in the Knights victory. 124 yards on 17 carries was the line for Martin while the red-hot Carroo caught seven passes for 157 yards.
QB Chris Laviano had a very efficient day for the Scarlet Knights, completing 28 of his 42 pass attempts of the evening for 386 yards, three touchdowns, and an early third-quarter interception.
Andre Patton caught six passes for 89 yards and Carlton Agudosi had 72 yards on three grabs as well for coach Kyle Flood.
Indiana was led in a big way by Sudfeld in the devastating home loss, as the senior threw for 464 yards and four scores on 32 of 42 passing, hitting three receivers for 100 yards each on the game. Sudfeld, however, threw two impactful second-half INTs to give Rutgers the momentum and possession they needed to mount their stunning come-from-behind victory.
Mitchell Paige had eight receptions for 126 yards, Ricky Jones had six for 119 and a TD, and Simmie Cobbs, Jr. had seven grabs for 107 yards for the Hoosiers.
Devine Redding ran for 99 yards and a pair of touchdowns on the ground for UI as well on the game.
Rutgers is now 3-3, 1-2 in the Big Ten, while the Hoosiers are 4-3 with all of the losses coming in conference play.
This was coach Kyle Flood's first game back from a suspension he sustained by breaking school and NCAA guidelines regarding contact between coaches and teachers this past year.