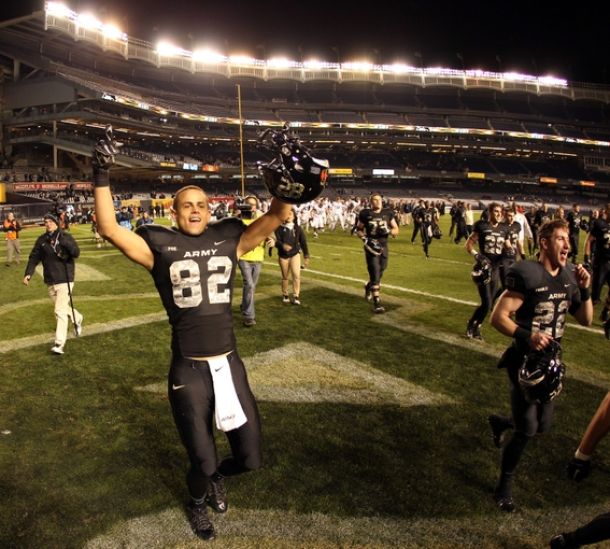 Entering this week, Army was 1-5, with their most recent game being a blowout loss to Duke. A homecoming loss to FCS school Bucknell would be a heartbreaker for the Black Knights.
Army fans can breathe a sigh of relief.
It was a defensive battle early, as neither team was able to move the ball much in the first quarter. The first score of the game came midway in the second quarter, when Bucknell quarterback R.J. Nitti hit Will Carter for a 35 yard touchdown. The two teams would exchange touchdown on the next two drives, and Bucknell would lead 14-7 at the half.
That would be the end to Bucknell's scoring.
Army would score in the third quarter, and the two defenses would hold up for the rest of the half. With 4:44 left in the game, Army went to the air, something rare in their triple option offense, and quarterback A.J. Schurr hit wide receiver Edgar Allen Poe (no relation to the author) for a 68 yard touchdown pass. The play was the longest pass play of the season for the Black Knights, and the longest in Poe's collegiate career.
On the next possession, Nitti was intercepted by defensive back Chris Carnegie. Army was able to convert on key fourth downs to seal the game and pick up their first home victory of the season.
Army is no stranger to close games. Four of their fives losses this season were by fewer than seven points. Army also knew they could not take this game for granted, as they lost their first game of the season against an FCS foe, a 37-35 defeat at the hands of Fordham.
The Black Knights appear to have settled on a quarterback. Schurr went 3-8 for 100 yards and a touchdown, and also ran for 99 yards on 31 carries. He split snaps in the first half with Ahmad Bradshaw, who was a perfect 2 for 2 passing, but for only 14 yards. He also generated 28 yards on 7 carries. Overall, Army was able to generate 377 yards of total offense, though a lot of that came in the fourth quarter.
For Bucknell, Nitti started the game well, but had a terrible second half. He finished 17 for 33 in the air with 186 yards and two touchdowns. Both touchdowns and a strong majority of that 186 yards came in the first half. Nitti also had one interception. The Bison relied on running back Matt DelMauro on the ground, who had an efficient game. He finished with 105 yards on 18 carries. DelMauro averaged 5.8 yards per carry.
Army gets to celebrate their homecoming victory, but now they hit the road for two games. They take on the Rice Owls next week in Houston, Texas. Army is barely hanging on to their postseason hopes - they will likely have to win every game remaining on their schedule in order to qualify for a bowl game. That will be an incredibly tough task, as four of their remaining five opponents are .500 or better, including arch rival Navy, who they play at the end of the season.