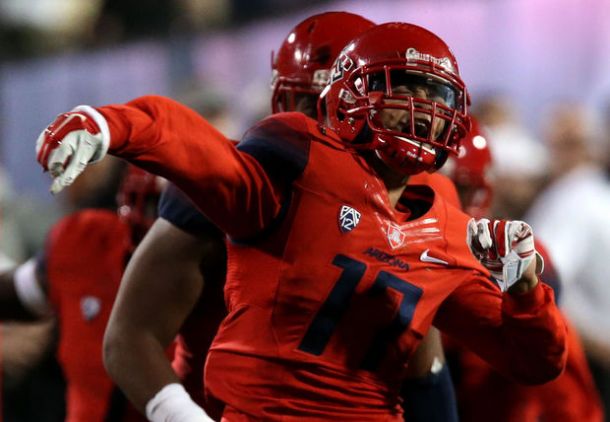 Heading into the fourth quarter, the Arizona Wildcats were down by seven before combining with Jared Baker and Jerrard Randall on the ground, completing the comeback to defeat the Colorado Buffalos 38-31 on the road. This victory moved the Wildcats to 5-2 overall and back to .500 in conference play after suffering heavy defeats to the UCLA Bruins and Stanford Cardinal to start PAC-12 play.
The second half for the road team was all about the running game after Rich Rodriguez elected for the speedy Randall to help further wear down the Buffalo defense, and it worked. Baker outgained the entire Colorado team as he finished the night with 207 yards on the ground, an average of nine yards a carry, while coming away with three touchdowns. Arizona's backup quarterback ran one in from the one yard line, finishing the game with 81 rushing yards having played less than a half of a game.
Anu Solomon, however, started the game out with a 44-yard pass completion to Nate Phillips as the sophomore quarterback sliced the Colorado defense up the middle. However, the drive would halt following that throw and Casey Skowron put the visiting school on the board first. In their next offensive possession, Baker showed off his speed as he busted up the middle to the end zone from 79 yards out.
Then it was the arm strength of Sefo Liufau on display as he combined with Shay Fields putting his school within three points. There would be another Arizona touchdown in the opening quarter with Josh Kern, a true tight end, crossing the plane to go up by ten at the end of the opening 15 minutes.
Colorado took control of the game during the second and third quarters as their defense stepped up, breaking up big plays while also stopping the rush. The offense took a seven point lead into the fourth and final quarter putting up two more touchdowns. The Buffs got a bit of good fortune as a punt hit the backside of Trey Griffey and Jaleel Awini was in the right spot as the ball bounced into his arms.
Liufau eventually ran the ball in from the two, leveling things at 17. At the start of the second half, Colorado moved the ball very efficiently mixing in run plays and pass plays to keep the Wildcats defense guessing. The junior quarterback got his second rushing touchdown of the night, this time muscling his way from the four yard line. They would score once more late in the fourth with Liufau finding Fields for a final time.
Next week, the Arizona Wildcats will travel back home to face the Washington State Cougars while the Buffalos go to Corvallis to battle with Oregon State.