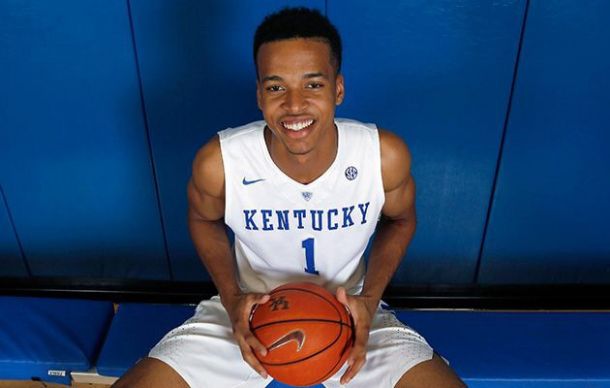 Do you hear that? No? It is the whole city of Lexington, Kentucky, taking a sigh of relief. Why? Because Skal Labissiere has been announced eligible to play for the 2015-2016 NCAA Men's Basketball season according to a report by Yahoo! Sports.
Labissiere, who is the second ranked incoming Freshman on ESPN's Top 100 (only behind LSU's Ben Simmons) and already considered a top NBA prospect for the 2016 NBA Draft, was being investigated because of his relationship with guardian Gerald Hamilton.
Originally a native of Haiti, Labissiere moved to Memphis, Tennessee, following a magnitude-7.0 earthquake that shook and ravaged the third largest country in the Caribbean. In the city nicknamed "Bluff City," the six foot, eleven inch center played for two local high schools (prior to being ruled ineligible) in addition to a team affiliated with his guardian at Reach Your Dreams Prep.
The preseason all-SEC first team selection will be one of six freshmen to suit up for head coach John Calipari this season. Yet, unlike past years, Kentucky isn't the only school in the conference to have freshman talent. This season, LSU brought in the aforementioned Simmons (named preseason SEC Player of the Year) and Antonio Blakeney (15th on ESPN's Top 100) while Mississippi State was able to allure the 10th player on ESPN's Top 100 Malik Newman (honored as a preseason All-SEC second team selection). Therefore, with these gifted athletes spread across the south, the SEC is looking to have the best conference in the nation.
But before conference play begins in January, the Wildcats open up their 2015-2016 campaign at 7:00 PM EST on November 13 against America East Champion Albany. And although a Kentucky spokesman would not confirm the eligibility of Labissiere to ESPN college basketball expert Andy Katz yesterday, no fan should be shocked if number one is warming up in Rupp Arena to make his collegiate debut 20 days from now.