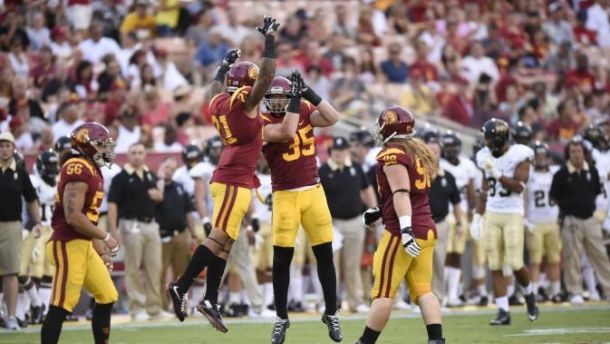 Many had predicted the USC Trojans to upset the Utah Utes this week. So much in fact, that there was a twenty percent difference in ESPN fan voting, as well as more experts on college game day predicting a USC win than a Utah win, with the experts even referencing Utah winning as a potential upset.
The final score might be the most surprising part of the win, as USC was all over the Utes highly regarded defense in a 42-24 blowout win for the Trojans.
USC had four rushing touchdowns, one each from Ronald Jones, Justin Davis, Soma Vainuku and Cody Kessler. Jones led the team in rushing yards with 73 on 15 carries, while Justin Davis added 66 yards on 19 carries for the Trojans. Passing, Cody Kessler had a great game - Utah's top notch pass defense, going 21 of 28 with 264 yards, a touchdown pass, and most importantly no interceptions.
The lack of forced turnovers by Utah was key to USC's victory, as Utah has won most of their games this season by winning the turnover battle. Receiving for USC was lead by JuJu Smith-Schuster who had eight receptions for 143 yards and a touchdown.
Adoree' Jackson had a decent game as well, totaling 37 yards on six receptions. Dominic Davis, Jalen Greene, Tyler Petite and De'Quan Hampton also caught passes for the Trojans.
Leading the defense for the Trojans was freshman Cameron Smith, who had 3 interceptions on the night, earning 122 return yards and a touchdown. Su'a Cravens also added an interception on a last second Hail Mary attempt thrown by Travis Wilson.
Utah's offense was lead by running back Devontae Booker who had 14 carries for 62 yards and Travis Wilson, who had 13 rushes for 35 yards as the quarterback.
Passing, Wilson had a solid game outside of his four (yes, you read it right, four) interceptions. He connected on 24-of-36 through the air for 254 yards and a pair of touchdowns. Both of his heaves for scores as well as 129 of his passing yards went to Britain Covey, who had seven receptions to his name.
Booker also added six receptions for 49 yards for the Utes. Kenneth Scott, Raelon Singleton, Marcus Sanders-Williams, Harrison Handley, and Bubba Poole all added catches as well for the Utes.
The Trojans' interim head coach Clay Helton was in his first game as the coach replacing the troubled Steve Sarkisian is the seventh-straight USC Coach to win his home debut. He led the team to its first win as an unranked team versus a top three team since 1975 (according to FOX's broadcast team).
Helton could get a full time offer to be the head coach after Saturday night's win with some more positive results in upcoming games, including against the in-state rival #20 California Golden Bears next week on the road.
Utah's next game is against the Oregon State Beavers at home.