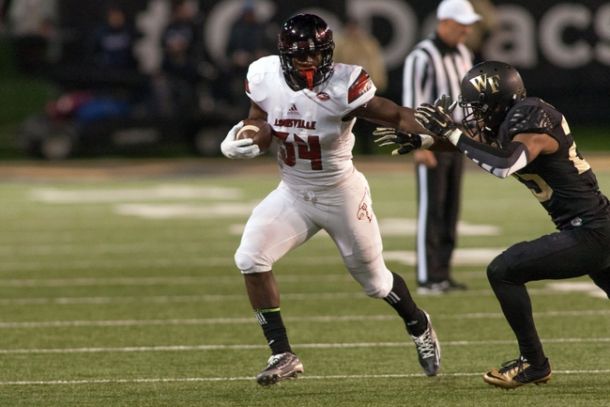 Wake Forest will want this one back. The Demon Deacons were not losing at all until late in the third quarter after a John Wallace field goal put the Louisville Cardinals up 20-19. The Cardinals held that lead for the rest of the game as the last four possessions for Wake Forest all resulted in turnovers.
The game started with each team struggling to figure out the opposing defenses. With six straight punts to open up the game, it seemed neither team would end up on the score sheet. However, that changed when the Cardinals muffed a punt that resulted in Wake Forest taking over in the red zone. Wake's drive went backwards, but they were still able to strike first with a Mike Weaver field goal.
On the second play of the next Demon Deacons possession, they struck again. This time it was a Cortez Lewis individual effort with great moves and speed. Lewis made a tremendous catch over a defender and eluded the secondary and broke free for a 78-yard touchdown pass to put the Deacons up 10-0.
The Cardinals stormed back with a field goal and touchdown of their own to tie the game at 10 almost halfway through the second quarter. The touchdown was off a beautiful pass by Lamar Jackson that found Jamari Staples in the endzone.
After a safety and two more touchdowns, Wake found themselves leading 19-17 at the half, while leading in the turnover department due to the muffed punt. Wake's offense, however, would shut down in the second half and the Demon Deacons could not find the answer with either Kendall Hinton or John Wolford at quarterback. Louisville was not much better, but a field goal late in the third quarter did give them the lead 20-19.
Then things got bad for the Demon Deacons. Wolford and Hinton would combine for four interceptions, with two of them coming inside Louisville territory and in field goal range. The one that hurt the most followed a blocked field goal. The Deacons started that drive with 5:22 left on the clock in Louisville territory. They ran a few plays and converted a 4th and 3 to get to the Louisville 34 yard line. Then, on 1st and 10, Wolford threw deep towards the endzone and was intercepted for the third time in the game and halted what could have been the game-winning drive. Wake Forest head coach Dave Clawson said in the postgame press conference, "This was the toughest one (game) of the season."
Wake Forest will head into their bye week with this one stinging. They also fall to 3-6 on the year. Louisville improves to 4-4 and also has a 3-2 record in ACC play. Wake drops to 1-5 in the ACC with only Clemson and Duke remaining on their conference slate.