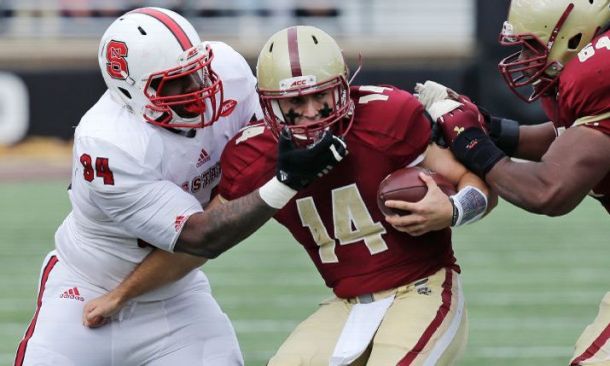 For weeks, the Boston College Eagles (3-7, 0-7 ACC) have struggled to move the ball on offense.
The North Carolina State Wolfpack (6-3, 2-3 ACC) defense, ranked ninth in the nation in total defense, was the last thing they wanted to encounter.
The Wolfpack forced four critical Boston College turnovers on the afternoon, their defense serving as a catalyst for a vicious offensive attack which thwarted the top-ranked Eagles defense en route to a 24-8 NC State victory, clinching a bowl berth.
Despite garnering 16 first downs in comparison to the Wolfpack's 12, holding possession of the football for 31:34, and recording five third-down conversion on the day, turnovers cost the Eagles the opportunity to remaining in contention.
Freshman quarterback John Fadule went 23-for-37 with three interceptions and a fumble to accompany his one touchdown and 257 yards for Boston College, his miscues granting a plethora of opportunities to the Wolfpack offense.
Eagles wide receiver David Dudeck emerged as Fadule's premier target in the contest, grabbing seven catches for 81 yards. Wideout Elijah Robinson also enjoyed a respectable performance, catching four passes for 51 yards.
Boston College struggled to activate their once-formidable rushing attack, gaining a collective 28 yards on 34 team carries. Running back Tyler Rouse led the team with 48 yards on seven rushes.
For the Wolpack, quarterback Jacoby Brissett completed 14 of his 27 passes for 212 yards, a touchdown, and an interception. He hit wide receiver Maurice Trowell twice for a game-high 85 yards and a touchdown while finding tight end Jaylen Samuels seven times for 38 yards.
NC State running back Reggie Gallaspy Jr. rushed five times for 35 yards and a touchdown while Samuels received eight carries, churning out 32 yards and a score as well.
After beginning the contest by throwing an interception to Boston College's Justin Simmons on a 4th-and-2 from the BC 22-yard line, Brissett recovered with a statement throw to kick off the second quarter, finding a streaking Trowell, who shook off Eagles cornerback John Johnson Jr., on a beautiful deep toss for an 83-yard touchdown strike, giving the Wolfpack a 7-0 lead.
Following a Boston College three-and-out, NC State delivered the deciding blow, marching 84 yards in seven plays for a touchdown drive concluding in a five-yard score by Samuels to push the Wolfpack advantage to 14-0 with 8:46 remaining in the first half.
Multiple examples of the Eagles offensive futility followed, as, Fadule proceeded to fumble on a 2nd-and-10 from his own 25 on the ensuing Boston College possession. After the Eagles retained possession following a fumble by NC State defensive tackle Eurndraus Bryant, Fadule proceeded to turn it over yet again, his deep ball being intercepted by Wolfpack cornerback Juston Burris.
After taking a 14-0 lead into halftime, NC State extended the gap immediately at the outset of the third quarter. Following a Boston College three-and-out, the Wolfpack took over at the BC 44-yard line and capitalized on the favorable field position with Gallaspy Jr. breaking off a 35-yard rushing touchdown to push his team's lead to 21-0.
Fadule then proceeded to toss two more interceptions to finish off a fruitless third quarter for the Eagles. While the Boston College defense was able to force five consecutive punts by NC State, Brissett rallied his troops for one last scoring drive midway through the fourth quarter, organizing a six-play, 30-yard drive to set up a 37-yarder by kicker Kyle Bambard with 4:14 remaining.
Trailing 24-0, Fadule was finally able to ignite the Eagles offense on the team's following possession, guiding a nine-play, 65-yard drive which concluded with a three-yard touchdown connection with wideout Thadd Smith on fourth down with just 1:21 left to cut the deficit to a final of 24-8.