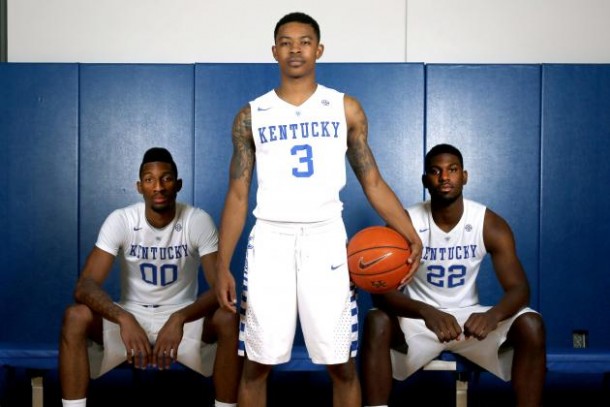 The new edition of Kentucky basketball begins in Lexington against an Albany squad fresh off of an NCAA Tournament appearance. The Great Danes are on the rise and are trying to remove the label of being a "cupcake" when top teams face them. After a season like their last, they give themselves somewhere to start.
Albany had their best Division I winning percentage last year, finishing the season at 24-9. The Great Danes only lost one game in the America East and won their conference tournament. Kentucky is also coming off their best season in the history of their program. A 38-1 season that fell short of the undefeated title in the Final Four.
Before there are any more undefeated talks in the Bluegrass, these Wildcats show they can put away opponents. The talent in this match-up tilts in one direction, and Kentucky needs to show that.
Kentucky's first games will need to be impressive and give this young bunch a rhythm. If the 'Cats struggle early, they will find themselves in some trouble before the non-conference is over. Trouble does seem to find Kentucky pretty easily though, with some of the 'Cats already getting beaten up. Dominique Hawkins was nursing a broken hand for the last month, but is slated to return in the opener.
Tyler Ulis was spotted wearing a boot leaving the practice facility. Coach John Calipari said from what he knows, Ulis is fine. Ulis is expected to play against Albany. Isaiah Briscoe, however, was reported to have banged knees with Hawkins in practice and has a bruised knee. Calipari said he might play both Friday and Saturday. Unclear on his official status.
This Albany team should try to take control of Kentucky's possible diminished back court and control the pace. The Great Danes can hit lights out, Kentucky's guards need to watch the perimeter this game.
This will be the first of two games in a row for the Wildcats; a difficult way to begin a season. With most of Kentucky's players still getting used to the college game, they need to learn fast or else they will be sore by the time they take a flight to Chicago to face the Duke Blue Devils on Nov. 17.
Despite nerves and injury complications, don't expect Kentucky to be given too much trouble. The Wildcats will make sure they don't let one of the less threatening games on their schedule slip away.
Players to Watch
Skal Labissiere- Labissiere will have a field day against a team with less talented big men. The freshmen forward's lethal turn-around fadeaway is unstoppable at the college level, and will be unstoppable here. Expect a double-double in his season debut.
Peter Hooley- Hooley is one of those threats from deep. If a man is not covering him on the perimeter he will shoot and he will knock it down. Hooley is cold-blooded, just ask Stony Brook.