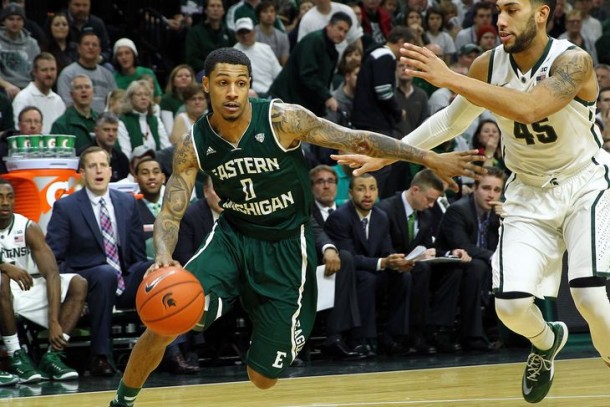 It was the first college basketball matchup of the season, tipping off at 11:00 AM EST in Ypsilanti, Michigan. The Eastern Michigan Eagles and Vermont Catamounts, two squads with plenty of hype coming into the season, squared off.
After two halves of action, the team from the MAC proved their sensational season last year was no fluke. JUCO transfer Willie Mangum proved his worth, leading the Eagles with 18 points. Vermont actually had the lead at halftime, but a large 2nd half spurt put EMU ahead to say, winning 70-50 in the opener.
Mangum was a key factor in this game, hitting some key jumpers and two critical threes. EMU's 2nd half surge was thanks in large part to a 9 point burst by Mangum from the 9 minute mark to 6 minutes left in the game. Tim Bond continually waltzed into the lane, scoring layups with ease.
The most important factor for the Eagles was their fantastic defense against Vermont star Ethan O'Day. He was mostly bottled up, only attaining 8 points on the day. James Thompson IV and Brandon Nazione turned the frontcourt into a wall for Eastern Michigan. Nazione in particular attained a double-double for the game with 10 points and 10 rebounds.
Vermont's sophemore guard Trae Bell-Haynes had a horrendous game, going 0-for-5 from the field and committing 7 turnovers. Freshman Ernie Duncan came off the bench to drastically help the Catamount cause, garnering 14 points and 6 rebounds. However, it was not enough as Vermont could not sew up the lanes on defense, and the game turned into a rout.
Note: Raven Lee, the Eagles' star player, did not play in this game. He's suspended indefinitely due to a violation of team rules.
Eastern Michigan now prepares for an improved Oakland Golden Grizzlies team this coming Wednesday. Vermont will have little time to practice as they take on a ranked Purdue team on Sunday.