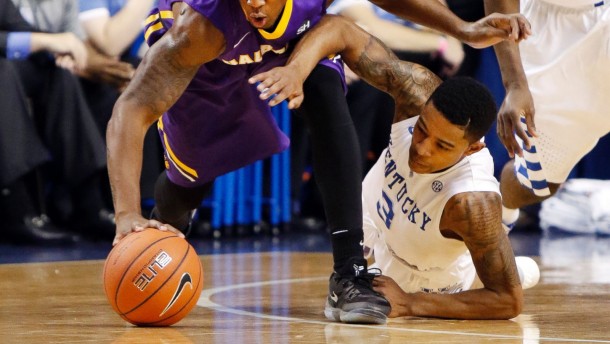 The second ranked Wildcats looked both exciting and sloppy in their season opener. Kentucky had missing players, multiple technical fouls, and poor decisions. A team that's still learning is bound to do that.
Spurts of this game; Kentucky looked unstoppable. They played with tenacity and had constant pressure on offense and defense.
Then there were spurts of the youth. Miscommunication between new teammates, defensive breakdowns, and poor sportsmanship choices.
Kentucky did manage to win the seventh season opener under John Calipari. This win didn't come easy as the Great Danes, fresh off three straight NCAA Tournaments, showed fight against the blue bloods of Kentucky.
The first half was a dog fight won by Kentucky, leading double-digits the majority of the way. Derek Willis, junior from Mt. Washington, KY, finally showed his stuff for the 'Cats. He scored all 14 of his points in the first half.
The second half was a real dog fight. Five technical fouls were assessed combined in the half. Four came on a play where it appeared Kentucky forward Alex Poythress threw Albany's Travis Charles to the floor. Both players were given technicals along with Kentucky's Tyler Ulis and Albany's Evan Singletary after both teams exchanged words under the basket.
The final technical was given to Kentucky's Jamal Murray with just over a minute left in the game. Murray and the referee argued over the call until Calipari had the star freshmen sit the rest of the way after a sensational debut.
Kentucky's Charles Matthews got the start due to Isaiah Briscoe being out nursing a bruised knee. Matthews hit both his shots to get four points and two rebounds.
Turnovers can become a problem quickly for the Wildcats, throwing the ball away 20 times against Albany. It won't be long before Kentucky starts facing the higher-ups in basketball, and that many turnovers spells disaster.
Kentucky did lead by double-digits most of the way, and looked comfortable in riding their lead to the finish. These young 'Cats managed to shake the first game jitters and make themselves 1-0 to start their season.
Player Statistics
Jamal Murray- Murray matched both his exhibition performances by showing out on the official stage Friday night. Wildcats fans should get used to big numbers from this guard. He finished with 19 points, eight assists and three rebounds.
Peter Hooley- Hooley was bound to have a good game, the question was how good. He collected 18 points on a poor shooting night, going 0-5 from beyond the arc. Hooley needs to find his rhythm from downtown to fuel the Albany offense.
Evan Singletary- Singletary was one of the players in that scuffle, and came out happier than others. Finishing with 17 points and scoring the Great Danes lone 3-pointer.
Derek Willis- Better late than never for the junior from Kentucky. Willis shines in his season debut, finally looking comfortable on the floor for the Wildcats. Willis scored 14 points with five rebounds on 4-7 shooting.
Upcoming Schedule
NJIT at #2 Kentucky 11/14/15
Albany at Boston U. 11/16/15